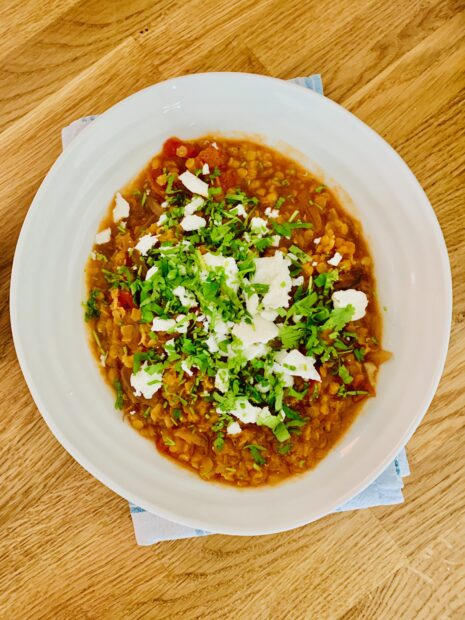 This soup is a real favourite in our household. It's so warming with a subtle complexity from the spices, which add interest and layers of flavour. I have Keesje and Olly at Burmieston to thank for the inspiration here. I enjoyed this soup at their gorgeous home in Perthshire, and attempted to recreate it when I returned home. It's a recipe I turn to time and time again, and I hope you will, too.
Moroccan-inspired Lentil Soup
Charlotte Pike
Serves 6
Ingredients
3 tbsp olive oil
1 red onion, peeled and finely chopped
3 garlic cloves, peeled and finely chopped
1 ½ tbsp ground cumin
½ tbsp ground coriander
1 tbsp ras el hanout
275g red lentils
400g can chopped tomatoes
1.2 litres chicken or vegetable stock
Optional extras
To serve, crumbled feta and flat leaf parsley or coriander leaves and a squeeze of fresh lemon juice
Method
Heat the oil in a large saucepan and gently fry the onion until tender but not browned. Add the garlic and spices and cook for a minute, and then add the lentils, tomatoes and stock. Bring to the boil, and then reduce to a simmer and cook for around thirty minutes, or until the lentils become tender. Taste, adjust the seasoning and serve, topped with feta and herbs, and a squeeze of lemon juice.