I was recently contacted by Hello Fresh with whom I am collaborating to bring you this post.
Hello Fresh are the U.K.'s Number One recipe box delivery service. I know many customers attending my cookery classes use the service. Recipe box delivery services effectively take shopping out of the equation for customers wanting to cook from scratch, but are limited on time for planning and acquiring ingredients. Hello Fresh offer a subscription service to customers, allowing them to choose the number of meals they would like provided each week, and then to choose which dishes they would like from the selection. The final choice is the number portions required, and then Hello Fresh will deliver all the ingredients you need to make the recipes you have chosen for the number of people you require. Recipes change each week, and one can take a break from the subscription if needed.
My customers who use this service find it works well practically, saving them time on shopping, and they like receiving the exact ingredients required, rather than keeping large stocks of ingredients in. I also hear that many customers enjoy trying new dishes they might not have tried otherwise by using the service.
In collaborating with Hello Fresh, I am very pleased to share this Speedy Sausage Pasta recipe (photographed) that caught my eye on the website, and also a special discount for you, offering £10 of a delivery, using this link. Please let me know how you get on if you give it a go.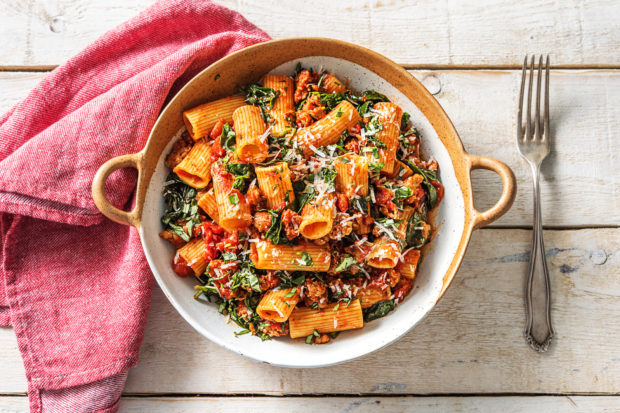 This is a sponsored post, written in collaboration with Hello Fresh. It is one of a very small number of sponsored posts for which I receive payment. All proceeds are used to fund the costs of running and maintaining this website.