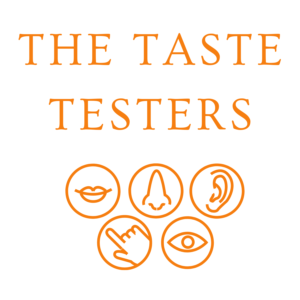 I'm absolutely thrilled to announce the launch of a new flavour consultancy, The Taste Testers.
The Taste Testers is a new flavour consultancy to help food & drink producers and manufacturers take their products to the next level launches today.  The Taste Testers is fronted by Charlotte Pike, an award-winning food writer, chef, and consultant, in partnership with AJ Sharp, food media entrepreneur, broadcaster and food judge.
Charlotte Pike and AJ Sharp, both acclaimed experts in their industries, have joined forces for an innovative new consultancy service catering for food & drink producers and manufacturers, from start-ups to NPD for more established brands.
The Taste Testers panel of professionally trained palates will test, taste, sample, critique and interrogate the product, recipe, and process. Offering analysis, flavour review and technical feedback and suggestions to enable further product development and improvement.
The Taste Testers team can also take the process a step further, offering insights, market research and data, along with packaging analysis and review to ensure that everything has been considered to set a new launch up for the best possible chance of success.
Says AJ Sharp, founder of award-winning food and drink PR agency Sharp Relations, food judge, broadcaster, writer, and restaurant critic: "Often, the first time many businesses present any NPD to expert palates – aside from their team – is when pitching to buyers, sending samples to journalists, or entering food awards. If the product isn't quite ready, it can have a detrimental impact on public opinion, perhaps delaying market penetration or preventing products from getting the recognition they deserve."
The Taste Testers' solution is to have products comprehensively reviewed and tested beforehand, which is why Charlotte Pike, a trained chef, food consultant and judge and AJ are teaming up to combine decades of knowledge, expertise and understanding of what elevates food & drink to the next level. The collaboration will involve a panel of incredible professional palates specialising in everything from fine cheese to gourmet chocolate to craft beers and more.
Charlotte Pike is a professionally trained chef, a well-established Executive Chef Tutor and broadcaster. She is also Chair of the Guild of Food Writers, as well as a member of the Slow Food Chef Alliance and Les Dames d'Escoffier.
Charlotte commented: "I'm thrilled to announce the launch of The Taste Testers, we will be supporting some of the most dynamic and exciting food and drink brands across the UK. Together with AJ, it is my hope that we can help innovative start-up brands and build on the outstanding successes of more established businesses to assist them in realising their full potential".
As well as heading up Sharp Relations, AJ Sharp is also the founder of Taste Kent Magazine and recently became co-host of the award-winning radio programme The FoodTalk Show. She has dedicated the last 20 years to helping good food and drink businesses flourish through mentoring, business support, strategy, PR, and communications.
AJ Sharp explains: "This serviceis a safety net. It's an opportunity for producers and manufacturers to be creative, innovative, and make sure the range is the best it can be. Before the PR agency send out samples to journalists or the buyers are approached, or the awards are entered. It's a chance to ensure the product, the flavour, the packaging, and the market position is working well in harmony before it launches. For Charlotte and me, it's all about helping good, sustainable food and drinks brands to be the best they can be, which will drive growth for the business"  
Food & Drink businesses who would like more information, can contact TheTasteTesters@sharprelations.com or contact me through the contact form on this website.