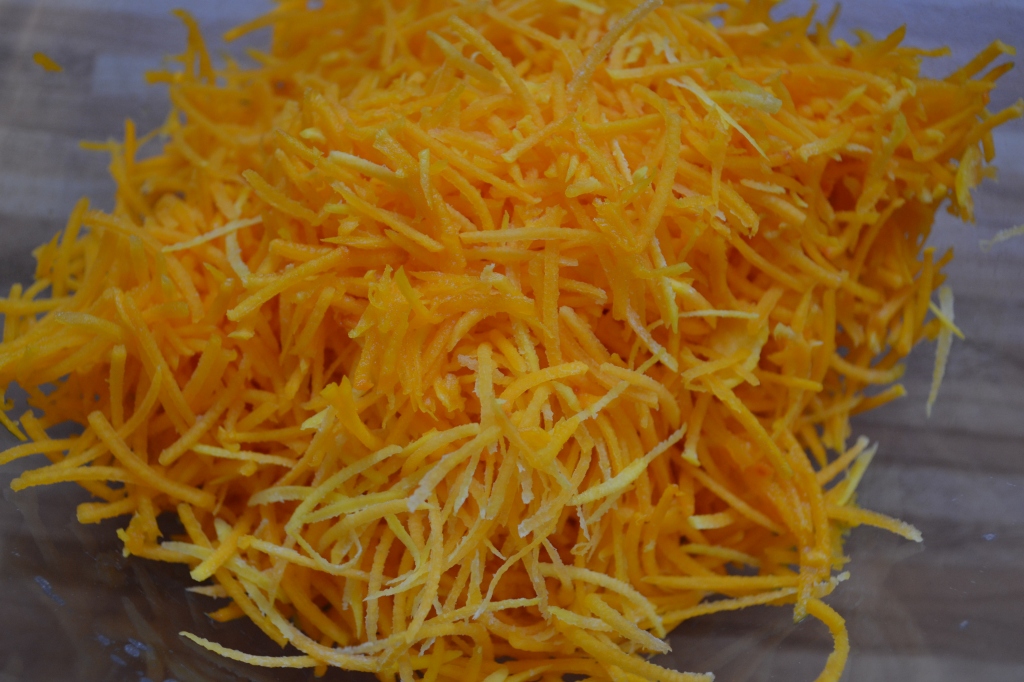 My cooking this weekend has been heavily shaped by two influences: a free pumpkin and reading Choclette's excellent blog.
I often sit down once a week or so to catch up on blogs I love to read. One of my very favourites is Chocolate Log Blog. So much so, that I included it in my Foodies 100 Top Ten at Ten recently. Choclette posted a fantastic recipe this morning, for a parsnip and walnut chocolate chip cake. I loved the sound of the combination of flavours and was desperate to try this cake.
This was shortly followed by a very kind delivery of a pumpkin from a friend's allotment. It didn't take long for the penny to drop and for me to know I had to adapt this recipe to use pumpkin, and I subsequently turned Choclette's recipe into a pumpkin, orange and cardamom cake. I owe her a great debt of thanks for very kindly allowing me to post this recipe, and also for the inspiration, yet again. I also used my cardamom sugar which I made from Prepped!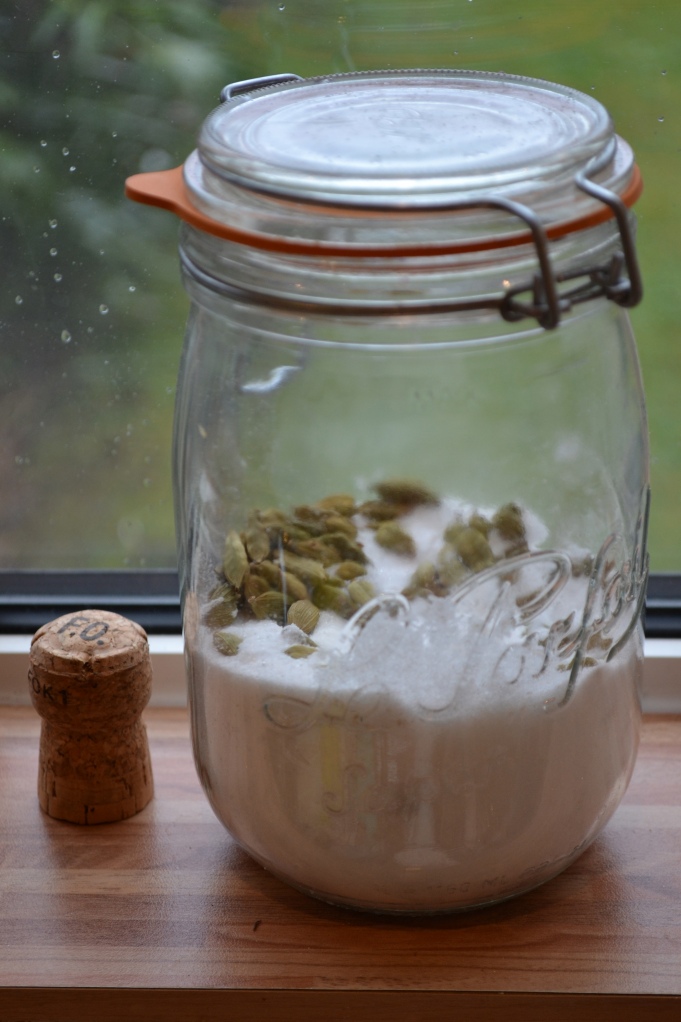 The second item on my list to cook today was a quiche. I am quite addicted to quiche at the moment, but good, rustic, wholemeal quiche, packed full of vegetables. Using the pumpkin and some cherry tomatoes and a courgette lurking in the salad drawer, I came up with this rustic quiche, which I shall very much enjoy for lunch with salad this week.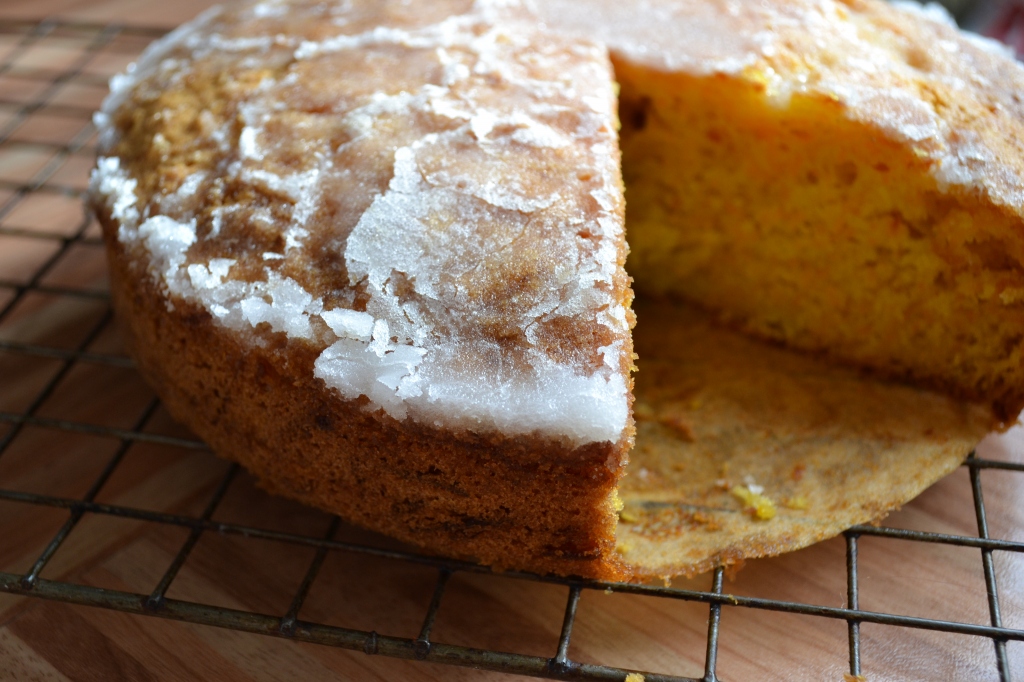 Pumpkin, cardamom and orange cake
Makes one 21cm cake
Ingredients for the cake:
200g finely grated pumpkin
150g cardamom caster sugar
3 large organic eggs
125ml vegetable oil
zest one large orange, microplaned
200g self raising flour
1 tsp baking powder
½ tsp bicarbonate of soda
Ingredients for the drizzle:
60g cardamom sugar
3 tablespoons Cointreau
Method:
Grease and line a 21cm round tin
Preheat the oven to 180C
Peel and grate the pumpkin finely. I use the Magimix every time
Place the eggs, sugar and oil into a stand mixer and whisk vigorously for around 5 minutes
Tip in the flour, orange zest and grated pumpkin and mix lightly buy prednisone online india until combined
Pour the mixture into the prepared tin and bake for 35 minutes
Make the drizzle by mixing together the sugar and Cointreau
When the cake comes out of the oven, prick all over using a cocktail stick, and tip the drizzle over the top
Allow to cool and eat immediately!
Pumpkin, tomato and courgette quiche
Serves 6 for lunch
Ingredients for the pastry:
100g wholemeal stoneground flour
75g plain white flour
1 tablespoon poppy seeds
1 teaspoon paprika
¼ tsp salt
75g butter or spread
¼ pint cold water
Ingredients for the filling:
250g very mature cheddar, grated
2 large organic eggs
100ml crème fraîche
900g vegetables (I used 150g cherry tomatoes, 125g courgette and the rest pumpkin)
1 tablespoon olive oil
Method:
Preheat the oven to 180C
I tipped all the pastry ingredients in the Magimix and blitz to form a dough
I kneaded this pastry lightly on a floured surface, then wrapped in cling film and left to chill for 20 minutes in the fridge
I cut the pumpkin into smallish chunks and sliced the courgette and tipped them into a large mixing bowl. I added the tomatoes and the olive oil and tossed the vegetables in the oil in my hands
I placed the vegtables on a large baking sheet and baked in the oven for around 20 minutes to soften them
I had great difficulty selecting a suitable vessel in which to bake the quiche (mainly as I couldn't find anything suitable) so I plumped for a square metal roasting dish, making a deep quiche.
I rolled out the chilled pastry between two sheets of cling film and then lined the baking dish with pastry (having buttered the dish first) and baked the wholemeal pastry blind for twenty minutes.
I then sprinkled a layer of cheddar cheese over the pastry case and then filled the case up with the roasted vegetables. I then sprinkled the vegetables with the remaining cheddar cheese, whisked together the eggs, milk and crème fraîche and poured this over the top.
I baked the quiche for 35-40 minutes
There's still half a pumpkin left as I type…