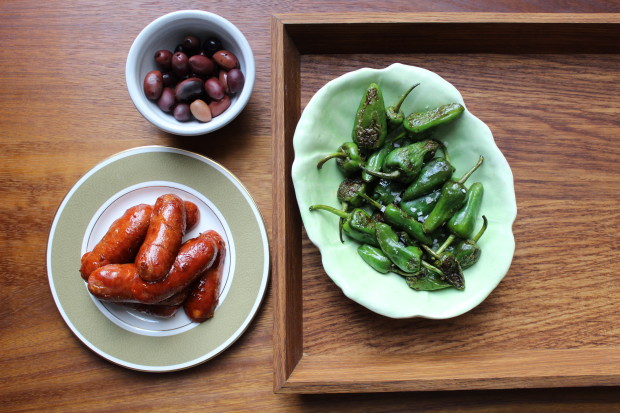 We've all come across tapas. Widely available in all manner of establishments (authentic and no so authentic), they have become an incredibly popular and have spiked people's interest in enjoying food served in small dishes, to share.
Tapas, and Spanish food, is up there with my very favourite things to eat. Part of this is down to my deep love of all things Spanish and Latin American. I studied Spanish and French at University and lived in Madrid for a happy time where I worked for a world-famous auction house in the day and spent my evenings with some of my very best friends in the world, with whom I lived in a quirky top floor apartment on Calle Príncipe.
Over the years and numerous trips to Spain, I have learnt to cook food the traditional way, often through staying with families and learning how to make a proper tortilla with my friend's granny and how to make torta de santiago with a top baker in Madrid.
Tapas are widely available in Spain. They get their name from the verb tapear, which means to eat from smaller dishes, which many people will enjoy in the early evening, often with a drink, such as a cerveza, clara, tinto de verano or even better, a sherry – perhaps a fino or amontillado.
In the south of Spain, tapas are often served free of charge with a drink, but can be fairly mediocre. Like anything, the quality of ingredients is key, and buying the most delicious ingredients you can find will ensure successful cooking. This is particularly the case with tapas, as you won't need to do too much to make a delicious table of food to share with family and friends. This is easy, straightforward cooking, producing delicious results. In fact, by choosing such good ingredients, you will end up with a better end result at home than you can find in many tapas bars in Spain.
Fortunately, there are some excellent ingredients out there, which I urge you to try for an authentic taste of Spain. The good news is with that internet shopping (Ocado), you can get hold of these delicious morsels without having to trek to specialist shops in London.
I should add that I teach a Spanish masterclass at the Harborne Food School in Birmingham, both whole day and evening classes, where we cook some seriously delicious, authentic food.
Here are some suggestions for a selection of tapas:
– Good quality olives. Always with the stone in.
– Marcona almonds. Perhaps roasted and salted.
– Chorizo. This must (I'm sorry, I insist on this) be fresh, cooking chorizo. Brindisa make an excellent one in a spicy or less spicy version. Please, please do not buy anything from the supermarket that calls itself fresh chorizo, or chorizo style sausages. The flavours are horrible and they buy soma compound with codeine really do not resemble the real thing. Fry in a non-stick pan for around 20 minutes until browned and heated through. Slice in half lengthways to serve.
– Manchego cheese. Buy a block and cut it into slices, which can be served with some membrillo (quince paste).
– Padrón peppers are always so popular. Fry them in a really hot pan with a dash of olive oil for a couple of minutes until slightly softened and browned (see the photo). Sprinkle with some flakes of sea salt and serve immediately.
– Homemade jamón croquetas (croquettes) are exceptionally delicious and addictive, but take time and care to make. My recipe is below. I'm not sure where it came from originally, but it was passed on to me by a Spanish friend, and I'm so pleased to pass it on to you below. Let me know if you make them!
Croquetas de jamón
Makes 50
Ingredients
3 tbsp olive oil
1 leek, very finely chopped
100g of plain flour
1 litre milk
300g of ham – such as jamón serrano, chopped into small pieces
A pinch of nutmeg
100g grated cheddar cheese
To coat and fry the croquetas:
Plain flour
2 large eggs, beaten
300g breadcrumbs
Olive oil
Method
Heat the olive oil in a deep heavy-bottomed pan over a medium heat. Add the leek, turn down the heat and cook until it turns translucent. Stir in the flour and cook for five minutes, stirring constantly.
Meanwhile, warm the milk and add it to the pan. Take the mixture off the heat and blend with a handheld blender.
Add the ham and the nutmeg to the pan. Put the mixture back on the heat andkeep stirring it until you have a thick béchamel sauce (another four to five minutes). As you take the pan off the heat, add the cheese. Stir and pour into a shallow dish. Cool for at least an hour or overnight if you prefer.
To coat and fry the croquetas put three dishes in a row: one with the flour, another one with beaten egg and milk, and the last one with breadcrumbs. Pick up a spoonful of the mixture (it should not be wet) and with your hands mould it into a cylinder shape. Keep doing this until you've used up all of the mixture.
Roll the cylinders of croqueta mix into the flour, then into the beaten egg, and finally into the breadcrumbs. Put the croquetas in the fridge for an hour so that they become firm before frying them. They are even better if you freeze them – they last up to three months in the freezer.
Fry them in small batches with lots of olive oil in a small deep frying pan until they are golden. Take them out and drain them on kitchen paper before serving.
Finally, here are my top recommendations for tapas restaurants:
In Madrid, Mallorca