There are many wonderful reasons to visit the UAE, but as a holiday destination, its main draws are its excellent weather, particularly in the winter, and the superb level of luxury and service in the hospitality sector.
Ras Al Khaimah is around an hour away from the mind-blowing city of Dubai, yet it feels a world away. Sat between the Arabian Gulf and the majestically beautiful Hajar mountains and rolling, red dunes.
Ras Al Khaimah, or RAK as it's known, is the northernmost of the seven United Arab Emirates (UAE), and is fast becoming a major tourist destination, favoured for being much less developed than Dubai, and for its miles of coastline, untouched ancient sites and incredibly laidback and relaxing atmosphere.
In search of a break and some serious relaxation in the lap of luxury, we headed to the Waldorf Astoria in Ras Al Khaimah. A good friend recommended it: "you won't be disappointed". Our expectations were high.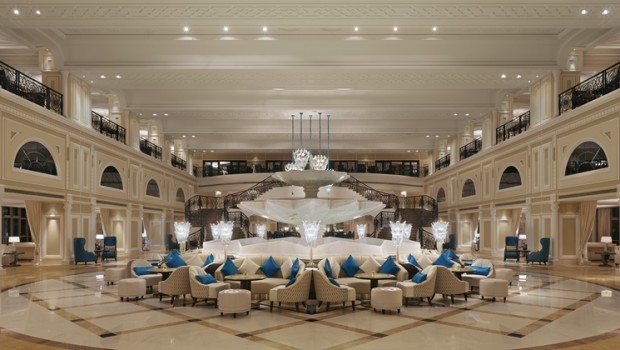 On arrival, we were swiftly checked in and shown to our room, a junior suite. Rooms here are seriously impressive, even by UAE standard and we had our own dressing room, sitting room and balcony, plus giant bedroom. This hotel is enormous, and rooms are huge, too, the corridors are wide, and there is plenty of room on the beach. There is space for everything here. Bedrooms are exquisitely designed, with hand carved wooden headboards, custom made stag coral lights, sparkly tiled and marble decked bathrooms, enormous beds with supremely soft sheets and your choice of pillow to suit you. The attention to detail and craftsmanship in this hotel is quite something.
It's only been open for two years, having been painstakingly designed by Gallery HBA in London, drawing inspiration from the Arabian palaces that dot the peninsula. Guests enter the hotel through a gargantuan archway, and meet a 10 foot Smith of Derby custom made clock, sweeping staircases and intricate fountains when entering the hotel. Wall panels are covered in turquoise silk, hand stitched with gold sequins flowing in a wave like pattern, reflecting the Arabian Sea. Again, quite something.
There's an enormous private beach here with friendly beach staff who arrange your towels with a smile and enquire about your plans for the day. There's a swim up beach bar, several cabanas for those seeking shade, a proper swimming pool for adults and plenty of designated space for children to play and swim.
This is a hotel geared up around relaxation and pampering. There isn't much to do nearby, and it's situated around 20 minutes from RAK city, so make the most of being here and just chill. For anyone feeling active, there is a deluxe 18-hole golf course on site, plus a state of the art gym and of course, the warm, clear sea in which to swim, which I made sure I did at least twice a day – when it's hot, it's pure bliss to wallow in the water.
For a real treat, you can try the spa, which even has its own private VIP suite. Try a Bee-Sting facial, using bee sting venom to improve your complexion, and is finished with a 24 carat gold serum. Only in the UAE!
Breakfast is taken in Qasr al Bahar, the hotel's buffet style restaurant and is really excellent. There is a superb choice of food on offer, and all of it is nicely cooked and presented. This is a super elegant dining room, especially for breakfast, and the service is just great from really engaged, friendly staff.
We returned to Qasr Al Bahar for dinner one night too, which offers an international buffet, and was fantastic. The choice, again, is pretty staggering, but the food was really delicious, and cooked freshly for us. The chefs are incredibly helpful, and were more than willing to accommodate any special requests.

The food here is really fabulous, too. Marjan is the top-floor Lebanese restaurant. Chef Mounir creates vibrant, authentic flavours, and everything on the menu here is so fresh, exciting and delicious. The dining room is also incredibly stylish and elegant, filled with plenty of quiet, private corners in which to dine. Start with the cold mezze, and the saffron hummus is unmissable. The fattoush was fantastic, and made without bread, and the tabouleh was superb with a delicious sweet and sour tang from pomegranate molasses. The hot mezze are excellent, too. The rakakat, a cheese filled pastry, were sublime. Must-try dishes are also the lamb meatballs with a tangy cherry sauce and the labneh bin awarma, which is labneh topped with confit lamb with some mint, garlic and pine nuts. Excellent mains include the shish taouk, which is grilled chicken with garlic sauce, and the camel kebab with saffron rice. Cocktails and juices here are excellent, too. Service is slick and professional.
Lexington Grill is a super glamorous New York style steakhouse at the Waldorf Astoria. The dining room is absolutely gorgeously decorated with wood paneled walls and a red marbled floor, and sets the scene for a grown-up, sophisticated evening. We settled ourselves in and made ourselves comfortable, and before we knew it, a trolley wheeled over, offering us our choice of champagne cocktail. Starters are a mix of American and French classics, and provide a light, fresh start to the meal. My Alaskan crab cakes were very good, and the thick slices of foie gras a real treat. Food intolerances are sensitively and helpfully dealt with here, and ever effort is made to accommodate. Chef Lij came out to discuss our requirements personally, which was much appreciated. For the main, course, decided to share two steaks, both rib eye and cooked medium rare. One was the U.S. Prime Black Angus Beef, and the other was the Australian Natural Kobe Style Wagyu Beef Grade 7. It was really interesting comparing the two cuts side by side. Both were excellent and seasoned using Lexington Grill's fantastic seasoning blend, which is presented to diners as a parting gift. A perfect destination for a romantic, special evening.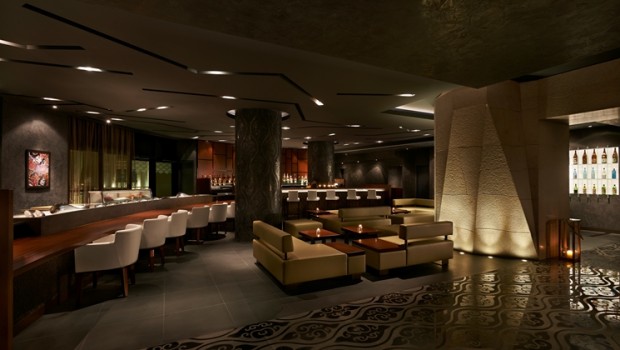 UMI is one of the very best Japanese restaurants I've ever visited. The restaurant is decorated beautifully, and one feels almost transported to Japan on entering. There are two live cooking sections in the restaurant and visitors can sit either in the sushi section, the teppanyaki section, or somewhere in between, which is what we did. UMI is home to the largest collection of sake in the UAE. If you're interested in learning more, I recommend you ask for Sunil to guide you through – which is what we did. It was fascinating to pair the sake with the food and try the different grades of sake. Sunil is a fountain of knowledge, too. There's a huge amount of choice on the menu, and we really struggled to pin our choices down. Chef Yukatade came out to discuss our dietary requirements with us, which was helpful. We decided to share a selection of nigiri, which were extremely good, served with homemade pickled ginger, which was sensational. We followed this with the miso black cod, which was utterly sensational and I cannot recommend it highly enough. A platter of delicious exotic fruits completed the meal nicely. Great food, gorgeous surroundings and delicious sake.
One of the main advantages of staying in a hotel offering excellent house is you're only a few steps away from the lift to whisk you back up to your room. There is something particularly special about returning to your room that's been beautifully tidied, well furnished with Salvatore Ferragamo toiletries and spritzed with divine Neom room fragrances for you – it's all part and parcel of the experience here – preparing you for a great night's sleep so you can wake up and do it all again tomorrow.
Bed and breakfast rates are extremely good value. We paid 875 AED (£155 at the time of publication) for bed and breakfast in a junior suite, plus the standard 10% service charge. Expect to pay from £50 per head for dinner. Worth every penny.