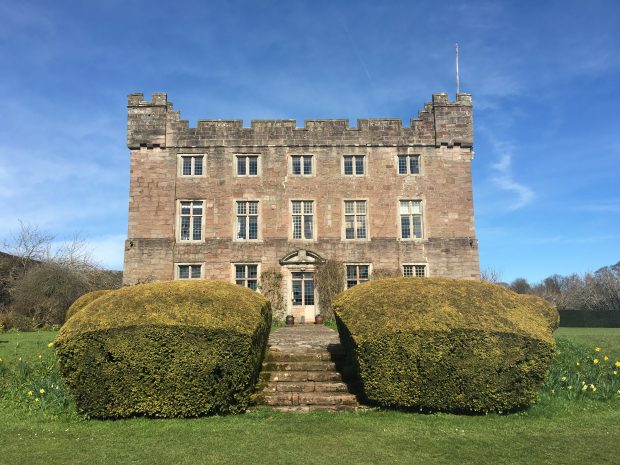 Where to stay
Askham Hall is a most unique family-owned boutique hotel in the North Lakes. Set in the Lowther family's red stone castle in the medieval village of Askham, near Penrith, Askham Hall is a tiny hotel with a uniquely intimate feel – a mixture of a private family home and a private club. The decor is a chic and fitting blend of family heirlooms and antique furniture, blended with subtle modern touches, such as the Tom Dixon lights in the stairwell, to brightly coloured tiles in selected areas of the building. The two styles blend together most successfully and add a real touch of luxury to this ancient building steeped in centuries of family history.
Askham Hall is sat in its own gardens with a delightful kitchen garden adjacent to the house from which much of the kitchen produce is sourced. The Hall is sat in an elevated position from which you can enjoy views across to neighbouring hills, and down to the River Lowther, running through the village.
This is a highly relaxed, informal hotel, with two delightful sitting rooms and a snug-type room with an honesty bar for guests. There is always a host on hand to make tea and look after guests, but the style of hospitality here is very much geared to a home from home experience. Guest rooms are situated in different wings of the Hall, and all of which are very different in style, combining a unique mix of pieces of family furniture. We stayed in the Cedar room, in the Peel Tower, with a bamboo four posted bed, views over the garden, Nespresso coffee machine and a large bathroom with bath and shower and a selection of lovely Bramley toiletries.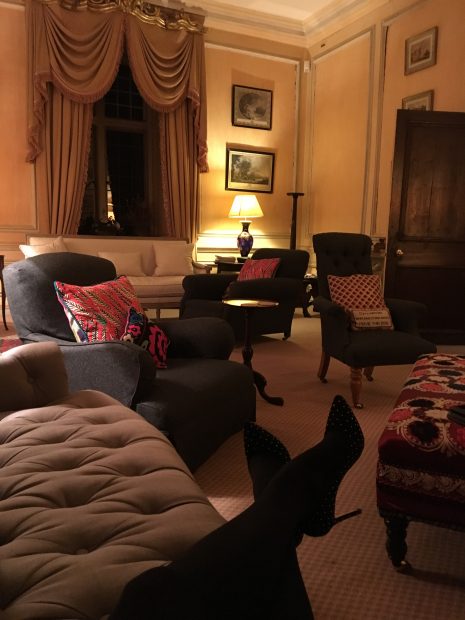 Evenings here are incredibly relaxed, and drinks by the roaring fire are an essential part of the experience. Indeed, one needs not to leave on a lazy or wet day, as there is a spa and sauna downstairs and a huge selection of newspapers, books and magazines to read.
One of the great joys of a stay at Askham is the sheer tranquility which comes with staying in such a small, quiet house, and waking up to hear nothing but the birds and sheep outside. Being so small and so private, it's worth noting that the Hall do exclusive use bookings and weddings, which I think would be particularly memorable held here.
Where to eat
The food at Askham is some of the most memorable and delicious I've ever eaten. Chef Richard Swale is a local man, who returns to his native county via some of the best kitchens in Europe.
Richard's cooking is simply sublime, intensely fresh, light and seasonal with a real depth and intensity of flavour. I could eat here every day, and his cooking deserves huge recognition. His cooking is easily better creatively and technically than many starred establishments.
We ordered from the refreshingly short a la carte menu and found everything we tried utterly sublime and exquisitely presented. Allergies are really well catered for, as everything is cooked so freshly, using natural, local ingredients, there are hardly any allergens present.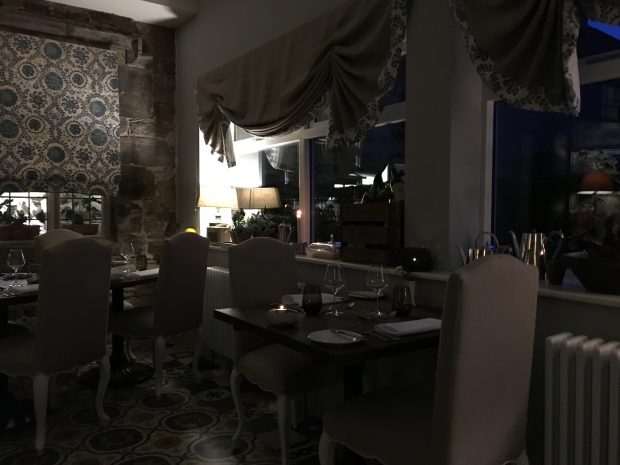 As the restaurant is so small, Richard has the time to work with the Head Gardener to grow the produce he needs and to pick, preserve, ferment everything he needs to build his menus. Meat and fish is as local as possible and of the most superb quality, with some of the meat coming from the Estate.
It is just incredible how much work Richard puts into his menus, which, whilst they involve so many components and layers of flavour, manage to come across as breathtakingly simple and elegant. Richard deserves to achieve great success and I look forward to watching his career go from strength to strength.
The stunningly good food at Askham is matched with a wonderful selection of wines and brilliant young Sommelier, Richard, who is another up and coming talent. Boundlessly enthusiastic and so easy going, Richard is on hand to look after guests in the house and recommend a most interesting selection of wines from the extensive cellar at Askham. There are some truly great wines on offer here, and all very fairly priced, too.
Another treat is having Richard cook breakfast. With so much produce originating from the Estate, including homemade sausages, which are unbelievably good, the freshest of eggs and field mushrooms, breakfast at Askham really is a treat to remember. Do take the time to savour the experience as you sit looking out over the garden. A delight.
What do to
From Askham Hall, there are plenty of delightful walks, both sedate and more adventurous as well as a choice of field sports that can be arranged. The staff at Askham will provide all the information you need to organise your days. There is also a Café and gardens next door to the Hall.
Lowther Castle is just a mile away from the Hall. Home to the Earls of Lonsdale since the Middle Ages, it is currently being restored after 70 years of neglect from the Second World War onwards. Its grounds are glorious and a visit is highly recommended.
Much of the china at Askham Hall comes from the village potter in Askham, so do call in to see him if you take a stroll around the delightful village.
Pooley Bridge is a very small village just down the road from Askham, which was very badly affected by the recent floods. It's now open for business again and I strongly encourage visitors to stop by. Ullswater lake is just a few miles away and offers unbelievable views. Take the Ullswater Steamer out on the water to explore. Do drive on past Ullswater, up the Kirkstone Pass for some seriously amazing views.
Serious walkers will be able to tackle Blencathra and Skiddaw – two of the highest mountains in the Lakes, which are very easily accessible in the North Lakes area.
Getting there
Askham Hall is in very easy reach of Junction 40 of the M6 at Penrith. It will take no longer than ten minutes to drive to Askham Hall from the motorway. There is a major A road running from the M6 across the North Lakes, making it easy and quick to get around.
We travelled up in my Mitsubishi Outlander PHEV and found several electric car charging points in the local area.
Rail travellers can travel to Penrith station, which is a short taxi ride from Askham Hall.
Thank you to Askham Hall for inviting me to stay. I am a Brand Ambassador for Mitsubishi Motors.