It is with the greatest pleasure that I share the news with you that I have joined the outstanding team of Brand Ambassadors at Mitsubishi Motors.
As a food writer and chef, there are two essential possessions I simply cannot work without: a computer and a car. Every week, I travel all over the country for work, either teaching cookery, cooking for my private clients or my food and travel writing. And when I am at home, I work on my cookbooks, which involves endless trips to the shops and back for ingredients.
Then, of course, when I do get a break, I love nothing more than getting in the car and heading off to somewhere beautiful to explore. I've always been interested in cars and have undertaken some advanced driving courses, including mountain 4×4 driving and green laning, so it is a joy to have a car that I can really have fun with.
I live in the beautiful English countryside, which is a lovely place to live, but it makes me entirely car dependent. For me, a tough 4×4 is a necessity, not a luxury. I do a lot of outdoor cooking, either on shoots, or just indulging my great love of foraging and outdoor cooking. I need a car that will take me from country to town and back again, week in week out in comfort and with style.
And so, it is a complete joy to have teamed up with the wonderful people at Mitsubishi as a Brand Ambassador. I now drive my own custom Outlander PHEV, in my colour scheme of choice – a stylish and understated gunmetal silver with a grey leather interior. Not only do I love this colour scheme, but it is immensely practical, and actually looks good when muddy (which it is most of the time!).
Honestly and truly, it is the best car I have ever driven. It is fantastically comfortable, (better than many other top-end cars), and easy to drive, (so much more than other 4X4s), which is so important to me. In a busy week, I can easily drive over 1000 miles alone, often late at night in rural locations and awful weather conditions. So, it's very important to know I'm in an exceptionally safe car, which can cope with whatever is thrown at it and get me from A to B easily.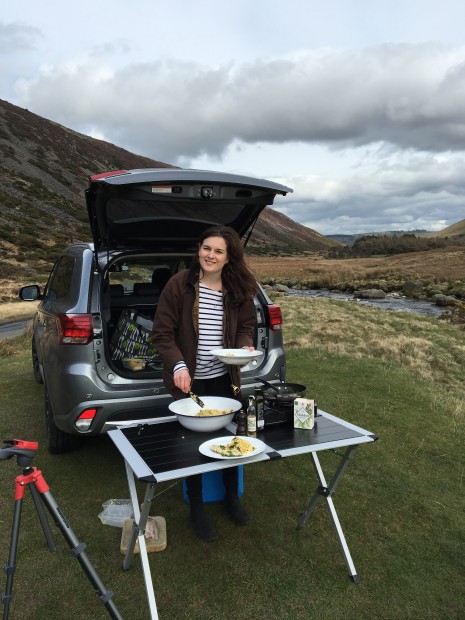 I'll be sharing more of my car very soon. But in the meantime, here's some more information about the vehicle, which I hope may be of use for those of you who want to know more about the Outlander PHEV.
How does the PHEV work?
My Outlander runs off a battery and unleaded petrol. When the battery is charged, the car will run on that power source until the battery is nearly empty, and then it will run on petrol. When I can't get to a charge point, I can run the car on Unleaded only, and it's still very economical.
How you charge the PHEV?
Very easily. I find it easiest to charge when I'm out and about, for example, I'll plug in whilst I go shopping on a regular basis. The Outlander comes with two charging leads stowed away in the boot. There is one to connect to a domestic plug, to charge the car at home, and also a Mennekes charging cable, which can be connected to charge points out and about. There are three different charges available. There is a rapid charge that involves you using a charge point with a special cable, that will charge the battery to 80% in 21 minutes, then the Mennekes, which charges in 3 hours from flat, and is available in many shop car parks, and the domestic cable, which takes about 8 hours to charge, so you can charge the car overnight at home.
Some charge points require a membership card to use. I did my research and found points near to me that I thought I'd use, and then applied online for the relevant cards.
How luxurious is it?
I have driven a number of very premium cars that don't feel as high quality as the Outlander. It has every feature I need and more, and is supremely comfortable and luxurious. I have a lovely grey leather interior, with heated seats throughout, and a leather heated steering wheel, which is so nice on cold days. There are front and back cameras, parking sensors and a lane departure warning function, which is useful. I love the stereo, which has a DAB radio and loads of presets, and of course Alpine speakers, which make whatever, I'm listening to sound great.
How economical is it?
Very. I am spending a surprisingly small amount on fuel and charging a month. Especially given that it is a big car, and I'm often carrying quite a load on board. It is also pretty cheap to insure, and tax-free. Even better, it is congestion charge exempt. There is just a £10 charge to register the vehicle, and then travel is free from there.
How much boot space is there?
The boot is huge. There is an electric tailgate and a boot cover to keep everything stowed away safely. I can confirm that three large, very full trolleys of supermarket shopping will fit in the boot (and I have thoroughly tried and tested this). Two extra large suitcases will easily fit in the boot, with extra luggage along side. Some Outlander models have rear seats, too.