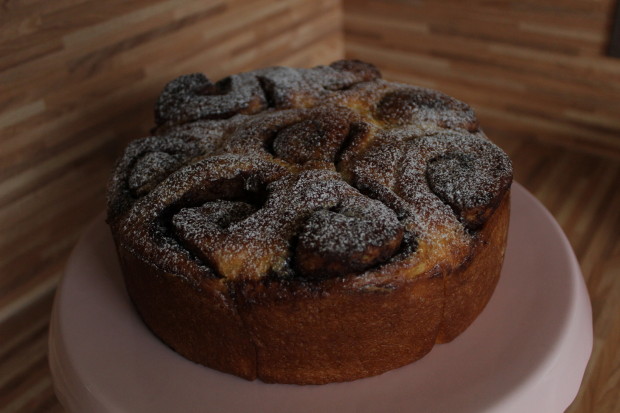 Cinnamon buns are probably my all-time favourite sweet treat. Sweet yeast baking is incredibly rewarding and hugely enjoyable. It's a little more challenging than cake baking, yet the results are, in my opinion, even more delicious. I spent the summer in Denmark, and greatly enjoyed trying the wide range of sweet breads available there, in a great number of exceptional artisan bakeries. Some were far too sweet for my liking, but I have earmarked a number of bakes to try for myself and adapt to make a less sweet version, such as a brunsuiger.
With a book to finish and promote and another to start writing, I haven't quite managed this yet, but I hope I will have some time over Christmas to get started. I will be making these buns on Christmas Day though, as they are an absolute family favourite. Once made, they have to be eaten on the same day as they become stale very quickly. They don't freeze particularly well, so the best time to make these, I find is when you have a crowd to feed. If you do try these buns, please let me know how you get on. I hope you love them as much as my family and I do.
Finally, for those of you who have very kindly contacted me regarding signed copies of my four books for Christmas presents, please find the links to purchase them online. I'll sign and dedicate them to whoever you like and they'll be posted out to you in time for Christmas. Thank you to the overwhelming number of you who have purchased my books this year. Thank you for making them bestsellers. Your support makes all the hard work worthwhile, so thank you. I'm working on the next book for you now.
To buy FERMENTED, please click here, and to buy the Hungry Student Cookbooks, please see here.
Thank you to you all.
Cinnamon buns
2015-12-05 11:32:25
Serves 9
Nutrition Facts
Amount Per Serving
* Percent Daily Values are based on a 2,000 calorie diet. Your Daily Values may be higher or lower depending on your calorie needs.
Ingredients
For the buns
215g plain flour, plus a little extra for the worksurface
215g strong white bread flour
Pinch sea salt
75 g caster sugar
2 level tsp instant action dried yeast
230ml milk
75g salted butter
1 large egg, beaten
For the filling
85g salted butter
75g demarera sugar
4 tsp ground cinnamon
For the topping
1 large egg, beaten
3 tbsp demarera sugar
Instructions
Start by making the buns. Sift the flours, into a large mixing bowl. Add the salt, sugar and yeast and stir well.
Place the milk and butter into a saucepan over a low heat and melt the butter into the milk. Do not allow the milk to start to simmer, this needs to be done over a low temperature
Pour the milk and melted butter into the flour mixture and stir to form a stiff dough.
Add the egg and continue to stir together to form a soft dough.
Grease a large mixing bowl, place the dough into the bowl. Cover with cling film and place in a warm place for around 45 minutes until the dough has risen
Meanwhile, make the filling by beating together the butter, sugar and cinnamon.
Grease and line your 8"/20cm square cake tin and set aside
When the dough has risen, remove from the bowl, and place on a clean, floured work surface. Gently roll out the dough to form a rectangle around 2 cm thick, no thinner
Spread the filling evenly over the dough. If the butter is still firm, you can break it up into pieces and distribute evenly over the dough.
Now, roll up the dough to form the buns. Place your dough in a landscape position in front of you and start from a long side of the rectangle , roll up the dough, like a swiss roll
Cut the dough into 9 buns. Each slice should be about 4-5cm thick
Fit the buns into your prepared tin, cover with cling film and allow them to rise for a further 30 minutes in a warm place.
Meanwhile, preheat the oven to 180C/355F/gas mark 4
When the buns have risen, brush them with beaten egg, sprinkle over the demerara sugar and bake for 25-35 minutes until golden brown.
Remove the buns from the tray, without separating them, and leave to cool on a wire rack for 30 minutes before pulling apart and diving in.
Charlotte Pike https://www.charlottepike.co.uk/