Just a couple of weeks ago, I packed my bags and flew over to Belfast for a whistle-stop tour of the finest food and drink in Northern Ireland. It had been a couple of years since I last visited Northern Ireland and it felt great to be back. It is a place I hold in the highest esteem for its beautiful countryside, vibrant Belfast city and extending the warmest of welcomes.
Furthermore, the food scene in Northern Ireland is hugely exciting and inspiring. There are so many truly passionate and talented people producing and selling outstandingly good food made with care, skill, collaboration and innovation.
This foodie guide is a little different to usual. I was so inspired by so many exceptional independent food producers, that I have included a section in this guide to give you suggestions of outstanding food and drink to look out for, as well as where to stay and eat.
Where I ate
My first lunch of the week was at the utterly wonderful Ursa Minor Bakehouse in Ballycastle. It is such a warm, stylish and friendly place for coffee, cake or lunch and a proud Economusée member. My host, Shauna, and I fell in love with the place from our first step inside the door. Run by a powerhouse husband and wife team, Dara and Ciara are baking some exquisite sourdough breads and cakes and making the most delicious lunches and brunches. I can't recommend it more highly. The bread is exceptional, the cakes are delicious and lunch and brunch menus absolutely wonderful. We just loved everything we tried.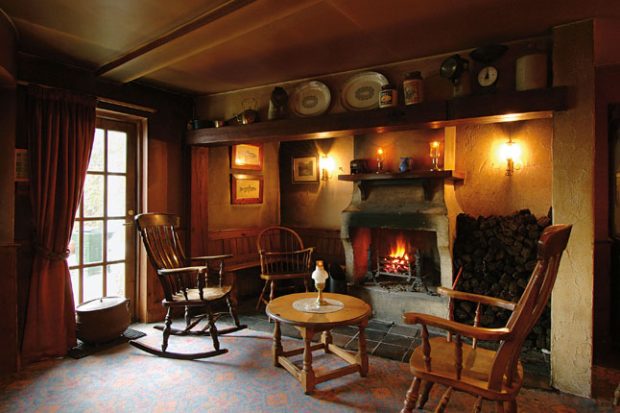 Dinner on the first night was at Bushmills Inn, which is one of the most well known restaurants in Northern Ireland, in Bushmills, near the famous whiskey distillery and north Antrim coast. It was absolutely packed, with quite a number of very famous guests when I was there as the Irish Open was on, and it is the place to go near the Royal Portrush golf course. The bar and restaurant at the Bushmills Inn are very traditional in look and feel, but with a great selection of drinks, wonderful, creative menu and an extremely warm welcome and fantastic service from staff. We chose the tasting menu, which was well cooked and generously portioned, featuring a very good pâté with a sloe gin brûlée, fantasic turbot, and a lamb tasting dish, featuring pan seared rump and slow cooked shoulder, and finished off with a rhubarb delice. Great wine list.
Back in Belfast the following night, I kicked off my evening with cocktails in the Merchant Hotel Cocktail Bar, which is an incredibly special space. I can't think of many places more opulent and glamorous to enjoy a drink, lending itself to such a sense of occasion. Every single element of each cocktail is so carefully considered and made by hand. Even the ice is hand cut. The drinks are real works of art, the service is faultless and such a bargain at around £10 per cocktail. Look out for a new menu this autumn.
Another great spot for a drink is the new Cave at Michelin starred restaurant OX. I loved OX when I last visited Belfast, and they have recently opened a wine bar next door, open for drinks and cheese. It is really informal and much easier to get into than OX. Do go and check it out.
After our cocktails, we headed to the Muddlers Club which is a brilliant new restaurant tucked away between Waring Street and Exchange Place in Belfast city centre. Its Head Chef and Owner, Gareth McCaughey, cooks an amazing ingredients-led menu, which changes daily. This was one of the very best meals I have had in a long time. Claire, who invited me along for the evening, and I shared three courses, and I really loved everything I tasted. Gareth and his team are cooking a tremendous range of dishes, where every dish is brilliant, drawing on a influences from all over the world. Each plate is presented so beautifully, a riot of colour, texture and manages to look exquisite and inviting at the same time. Service was incredibly impressive – genuinely warm and friendly with real professionalism. A real gem.
The next morning, I headed out for brunch at General Merchants near Stormont. This was also absolutely brilliant. It's a small café, (book ahead) decorated in a very trendy urban style. Coffee and food are both excellent, and the brunch menu is full of interesting choices, from healthy bowls of green goodness, to excellent porridge with berries, to a complete blowout (which I had), of pork belly on brioche with sriracha hollandaise. Every bit was full of flavour and skillfully cooked. Very highly recommended.
For my final night in Belfast, I headed to Fish City in Belfast. Run by husband and wife, John and Grainne, it is a newly opened, multi-award-winning fish restaurant in the heart of Belfast. Their smartly decorated restaurant serves a wide range of fish dishes, from excellent cooked-to-order fish and chips, to lighter options, such as grilled fish, tacos and wraps. John and Grainne are very heavily involved in the business and are either supervising the cooking or out the front, ensuring that service is of a very high standard. All fish served at Fish City is MSC certified and cooked fresh to order. They're also open for lunch and dinner and have a great wine list, too. A wonderful addition to Belfast city centre, which manages to offer something for a really wide audience throughout the day and evening. Really well-priced, too.
Where I stayed
In Belfast, I stayed at the new Bullitt Hotel, which is located close to Victoria Street in central Belfast. Designed to offer a comfortable and well-equipped crash pad for city visitors, it is a cool, modern and comfortable hotel with small-ish rooms, super-comfortable beds, high quality bathrooms and very fast wifi. Downstairs, there is a great space for working, relaxing or meeting friends and having fun day and night. It has a great bar, restaurant and coffee bar (photo above), featuring the fanciest coffee machine in Belfast. I absolutely loved it there. Rooms have no desks, so I went down for coffee to work really early on both mornings and it was the perfect place to plough away with few distractions. Come the evening, it was a fantastic spot for drinks and had a wonderful lively, friendly atmosphere. Staff were absolutely exceptional, too. I received a really warm welcome from staff night and day and nothing was too much trouble. A great find.
Up on the Antrim Coast, I stayed at Causeway Lodge, which is a 5 star bed and breakfast run by husband and wife Anne and Lyle Taggart, near Bushmills. Again, this was a really lovely place to stay. Causeway Lodge offers 5 en suite rooms in the Taggart's immaculately decorated house, which has won scores of awards, and it's clear to see why.
Anne and Lyle have thought of everything you could possibly want, and are wonderful hosts. I stayed in the Dunluce Suite which was a huge upstairs suite with absolutely everything I needed and more. Causeway Lodge is an extremely comfortable and peaceful place to stay. I enjoyed a wonderful piece of smoke roasted Organic salmon from North Coast Smoke House and scrambled eggs for my breakfast, which was so delicious. Do book ahead – as you might imagine, this little gem gets very booked up.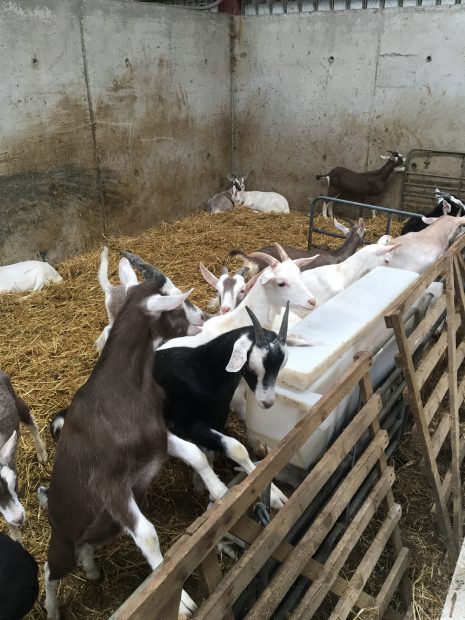 Food producers to look out for
The first stop of my trip was to Broughgammon Farm in Ballycastle. The Cole family are based on the farm, and have a wonderful, innovative business rearing goats to produce cabrito (goat) meat and free range rosé veal, which are sold online and in many farmers markets they attend across Northern Ireland and down in the Republic. Not only is the meat sold at markets, but they produce a range of sausages and sell burgers with homemade sauces and relishes to accompany at markets. Everything they sell is made in house, and additional ingredients they use are grown in their kitchen garden and polytunnel on the farm. This is a really innovative and creative family doing some pioneering things in food.
The next stop on my trip was to Corndale Farm near Limavady. Alastair Crown runs this small, high-welfare farm, rearing gorgeous free-range pigs and producing the most delicious charcuterie. It was great to see Alastair's saddlebacks on the farm, who truly have a lovely life and are exceptionally well cared for. Alastair then makes his own range of charcuterie by hand, which includes an exquisite fennel salami, his own homemade spicy chorizo and some delicious venison sticks. Alastair sells his charcuterie at farmers markets and in high-end delis across Northern Ireland, but do watch this space for online sales – coming soon. Alastair is a passionate ambassador for free range meat, and is one of the few free range pig farmers in Northern Ireland. If you're based in N.I., look out for their hog roast at events – or hire them for your own party.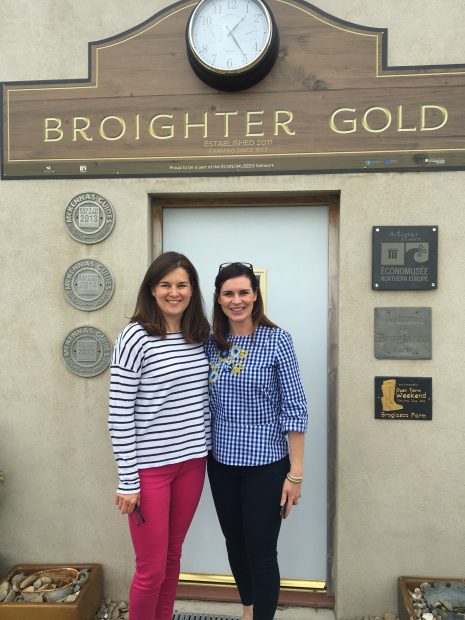 Just down the road is Broighter Gold, Northern Ireland's award winning grower and producer of rapeseed oil. Broighter Gold is also a member of Economusée and produces a really lovely subtle, creamy rapeseed oil, which is sold widely across the UK and Ireland. They also produce an excellent range of flavoured oils, including a new hickory smoked oil, and a gorgeous mushroom and truffle oil, which I am really enjoying using. Run by Leona Kane and her husband, Richard, they manage their family farm, growing, harvesting and producing rapeseed oil on-site. They also have an excellent shop and a small exhibition space showing the history of the site and product for visitors to learn more about their work. This is a truly excellent oil. The colour and texture of the oil are superb, and the subtle, clean and creamy flavour is the very best I've ever tried from a rapeseed oil.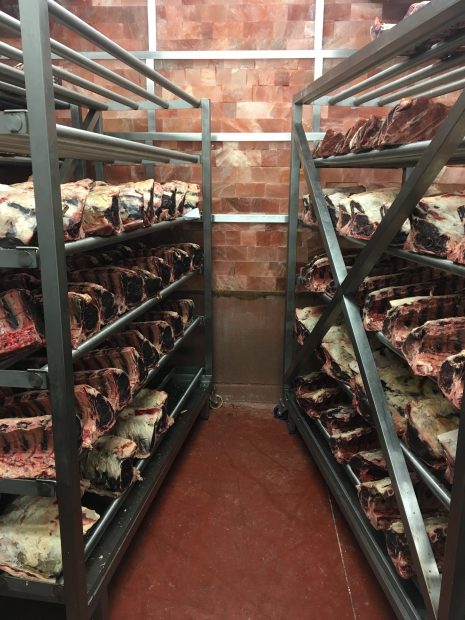 Next on the agenda was Hannan Meats in Moira. Many of you will have heard of Hannan Meats, even if you have not visited their shop, as their superb meats feature on the menus of many of the best restaurants in the UK, Ireland and beyond. They are famous for many superb products, including their beef from the Glenarm Estate and lamb, which are aged in their incredible Himalayan salt chamber, creating sublimely matured meat, quite unlike anything else I've tried. They also make the most amazing sweet cured bacon and guanciale, which are so memorable. I recommend a visit from near or far, and I urge you to stock up. Delicious local food products are also on sale from a selection of quality small businesses. I took home an exquisite Tomahawk steak, Himalayan salt aged lamb and some bacon and guanciale to tide me over.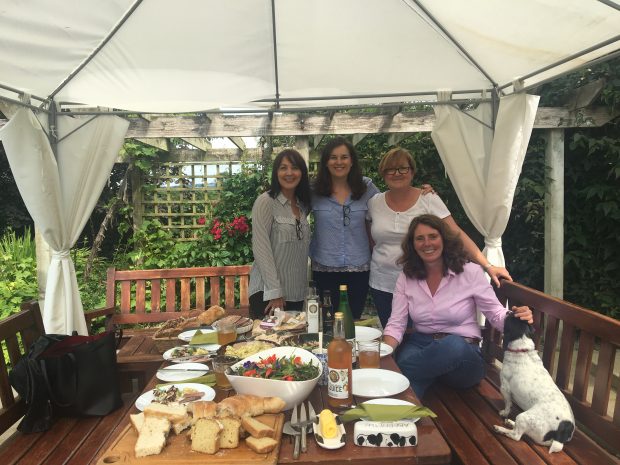 Just a few miles out of Moira is Passion Preserved HQ, which was my next destination and an exquisite lunch with Claire Kelly, who runs Passion Preserved and Jilly Dougan, food writer, edible gardener and wife of Simon Dougan, who is the chef at Yellow Door. We enjoyed a feast of delicious salads grown by Jilly, Kasundi potato salad, using Claire's amazing Kasundi relish, Yellow Door bakery breads and more, in Claire's beautiful garden.
I first met Claire and tried her delicious and creatively different selection of preserves a few years ago, and was really excited to go and visit her incredible site in person. Claire is a very talented gardener and grows the vast majority of produce used in her preserves in her garden and poly tunnel. Claire's range of preserves are really special, and I really recommend you try them. One of my favourites is the Kasundi, which Claire adds to a potato salad for a deliciously spicy version. What is nice about Claire's range of preserves is that they work so well in cooking, as well as an accompaniment.
Ingredients from Yellow Door and Jilly's garden were equally delicious. They make a huge range of breads and treats in their bakery every day, which are sold in a wide range of quality delis and in their own shops, which I rate very highly. I have also had the pleasure of enjoying Simon's cooking at the Glernarm Estate, which was extremely memorable.
Back in Belfast, I loved Co Couture chocolate shop, run by Dierdre McCanny. It is a true chocolate shop, selling exquisite, handmade chocolates and heavenly hot chocolate with homemade marshmallows in a selection of flavours. Great for a drink and a chocolate treat and also for shopping, as Deirdre sells her hot chocolate mix in packets as well as boxed chocolates.
It would not be a trip to Northern Ireland without a trip to a distillery, and I headed to the far east to Echlinville Distillery for a distillery tour and a taste of their wide range of spirits which are made from a field to glass approach, growing the grain which is processed into spirits. The Echlinville Gin is excellent and won 3 stars in the Great Taste Awards this year, and their Jawbox brand is one that is very familiar to many consumers already. Watch our for upcoming releases from Echliville…I've had a few tastings, and I'm very excited about their new products hitting the market.
Finally, one of the most exciting discoveries from my trip was Comber Farmers Market, which is one of the loveliest farmers markets I've ever visited. Set up by Deborah Girvan, it is a true local farmers market selling beautiful local produce from artisanal producers in the area. It is just wonderful. Highlights for me where freshly baked farls and breads from Krazi Baker, Ken's Raw Jersey Milk, Kennedy's Bacon, Broughgammon farm, Indie Fude (whose excellent shop is just round the corner in Comber) and David Love Cameron's walled garden.
I'm already planning my return – watch this space for news soon – and I cannot recommend a trip to Northern Ireland more highly.
This trip was organised with the help and support of Invest NI and Tourism NI. Thank you to all for your warm welcome and generosity.