Just a couple of weeks ago, I was lucky enough to have a last minute opportunity to visit the Caribbean with P&O Cruises on a 14-night cruise.
I've always dreamed of visiting, having admired photos of sun-drenched beaches, windswept palm trees, white sand and crystal clear turquoise sea for years. I've longed to try the huge array of fresh fruit and spices, freshly picked from the trees, and to sample the many different kinds of rum.
With just a couple of weeks to get organised and head off on a whistle-stop tour of ten Caribbean islands, I spent as much time as I could reading up to make the most of the time on each island. A Caribbean cruise can be whatever you want it to be – if sunbathing on deck is your thing, then you will be able to enjoy hours of relaxation in the sun. We wanted to try and see as much of each island as we could, which was a pretty exhausting experience, but we felt, really worth it.
So, here is my Foodie Guide to the Caribbean. As there is a lot to cover, I'll start with the Cruise with P&O, then a guide to each island, and finally some travel tips that I wish I'd known in advance. I hope you enjoy… I loved it so much; I'm already planning a return visit.
The Caribbean Cruise
Our cruise was a fly cruise in and out of Barbados, where we joined our ship, Azura for a round trip. There is a choice of UK airport departures to Barbados, and we flew from Birmingham on a TUI chartered flight. The service is easy – one simply needs to print luggage tags, and when suitcases are deposited at the airport, they are taken directly to the ship cabin on arrival. We had to wait several hours for our case to arrive, but it was nice to simply walk off the plane with hand luggage and head off to the ship after a long flight.
We flew in to Barbados, and were taken off on small minibuses to join the ship, which was docked in Bridgetown; around 45 minutes drive away from the airport. We boarded the ship as soon as we arrived and were docked in Barbados for around 48 hours before setting sail.
Over the course of the cruise, we visited nine islands, with a private trip to Mustique taking us up to ten islands. We had three days at sea and returned to Barbados for a final half day before flying home.
Our accommodation on the ship was a Double room with a balcony on A deck. It was cosy and comfortable – although the smallest cabin we have ever stayed in – so we have been used to more space on other trips on D deck. We had a table and chair and armchair instead of a sitting area in a larger cabin, and a smaller balcony with two chairs and a small table. Our bathroom had one shower cubicle instead of a bath with shower over it. It was small, but perfectly adequate and comfortable. One of the great luxuries of a cruise is only having to unpack the suitcases once during the trip, and having a private base from which one does not have to move during the holiday.
Azura is one of the largest ships in the P&O fleet. It is a family friendly ship, although there were very few children on our cruise. We were definitely amongst the youngest guests on board. On board, there is a good choice of facilities and experiences, which is particularly important if one wants things to do on sea days, aside from sunbathing. We particularly enjoyed visiting the gym, the swimming pools, had a go at a couple of dance classes and enjoyed seeing some of the live music and the Headliners Theatre company. Some classes and talks are available at an additional cost or are associated with product sales.
Food is an important element of all P&O Cruises and we were generally very impressed with the food on board. The choice on board is very good, and we found the food was abundant, tasty, fresh and served with a smile. Breakfast is taken in different locations depending on the package. The entry level is the buffet restaurant, which is open throughout the day and evening, offering a wide choice from a self-service buffet. Guests booked into an evening restaurant will be able to enjoy breakfast there, which is a more formal affair with table service for a leisurely breakfast. Suite passengers are able to enjoy breakfast at a fine dining restaurant, which is really lovely. We tried all the breakfast options, and possibly unsurprisingly, the fine dining restaurant was our favourite with delicious freshly made smoothies, smoked salmon bagels our top picks.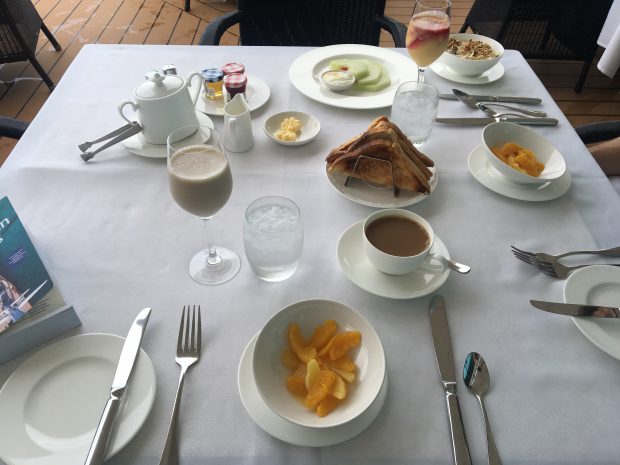 We only ate lunch on sea days, but when we did, we really enjoyed visiting the buffet, as there was such a choice, we liked picking what we fancied from cooked dishes, salads, charcuterie, seafood, cheeses and fruit. There is also a grab and go option on deck, with pizzas and fried food, such as burgers, chips and goujons on offer every day in unlimited quantities. There is also a sit down option in the main restaurants for a more leisurely lunch with waiter service.
Dinner is an opportunity to dress up every night, and we had four formal nights throughout our cruise with a black tie dress code and special gala dinner menu. There are two fine dining restaurants on board – Epicurian, which serves a three course Modern British menu, featuring some quality British produce in a very smart, formal setting. There is also Sindhu, an Indian fine dining restaurant, whose menu is designed by Michelin starred chef, Atul Kochhar. Both restaurants offer a very nice experience, with a more special setting and more creative food than elsewhere on board. There is an additional cover charge for dining here, in the region of £25-30 per head, excluding drinks.
When booking, there is the choice to either pre-book your dinner for the same time every night – either the early or late sitting, for the same table in the same restaurant every night, or to select what is called Freedom Dining, which allows you to visit your dedicated restaurant at a time of your choosing every night. We opted for the latter, which gave us the opportunity to be more flexible with regards to time. This option worked really well for us. Our designated restaurant offered a five course menu each night, with plenty of choice for more traditional and adventurous tastes. We generally really enjoyed the food and especially enjoyed the service, which was really wonderful and enhanced our experience no end.
The service in general on board Azura was excellent – cabin stewards, restaurant staff, housekeeping staff – they really did go out of their way to be friendly, courteous and helpful.
Barbados
Barbados is a wonderfully colourful island. It's so green and the first thing that catches your eye when arriving is the vibrant colours of the amazing palm trees and bright pink and purple bougainvillea, oleander and hibiscus flowers.
The capital, Bridgetown, is comparatively large, and is a busy town with lots of shops and markets. The town is based around a sea inlet, called the Careenage, which runs into the heart of the town, which has a board walk running along part of it, which is lovely to walk along.
You'll find a good number of food stalls selling Bajan food by the roadside, which might include pies made from sweet potato, pudding and souse, cou-cou, a cornmeal purée, and seafood, including crab and lobster. The local beer is Banks beer, which is sold on stalls in the street, too. You may even hear the horn of a man on a bicycle coming around selling snow cones. Bajan rum is very good and distilled on the island. Mount Gay is my favourite, but you will also find Doorly's and Cockspur widely available.
Nearby Carlyle Bay (see photo at the top) is a popular spot for snorkeling. We had to head quite far out to see the turtles – we booked on a turtle snorkel trip (costing £90) and didn't see any, then went out further ourselves and saw a huge number. The beach at Carlyle Bay is very good, too. We preferred to head away from the crowds to the less populated end, but if you don't want to walk far, there are lots of places to stop with shaded sun loungers, cold drinks and music. Expect to pay around 10USD for a lounger and 5USD for drinks.
Antigua
Antigua is a beautiful green island with gorgeous rocky bays and sandy beaches. The water is pale turquoise and it's very hot and slightly humid. The capital, St. John's is ramshackle and colourful with very friendly people.
There are a couple of notable buildings to see in the town and the newly restored cathedral is worth a look. There is a large food market at the east of the town, which is packed full of stalls selling sweet potato, pumpkin, spring onions, fresh herbs, chillies, bananas, mangoes and pineapple. Look out for black pineapples, which are grown on Antigua.
The beaches are really special, and there are lots of interesting things to see in the sea, too, so do try the snorkeling if you're that way inclined.
St. Kitts
St Kitts and its sister island Nevis are lush green islands with dramatic volcanic peaks, colourful buildings and fields of sugar cane.
Basseterre is the largest town on the island, and where the airport and ports are located. It's a really small town and is easily walkable.
Shops dock at Port Zante, which is in Basseterre. It's a touristy port area with plenty of shops and a few bars, and I'd recommend passing through quickly and heading to the town for a look around. There are some lovely colourful buildings in town, and there are some particularly interesting examples on Princes Street. Independence Square and the Immaculate Conception Church are worth exploring.
You'll find plenty of street stalls selling freshly cut coconuts and fresh produce including spring onions, squash, thyme and sweet potatoes.
Highlights on the island are the St Kitt's Railway, although it is hard to book tickets, Brimstone Hill Fortress, the Wingfield Estate and Caribelle Batik, which are all within easy reach by car from Basseterre.
Dominican Republic
Our port of call here was Amber Cove, a new and purpose built facility around 20 minutes drive from Puerto Plata on the north coast. It is very smart and modern with good facilities. There is a nice beach nearby, which is best for a walk, rather than to sunbathe, and we took a ride along on horses, which was fun. We also walked down to Maimón, a nearby village which is famous for its fish restaurants. The roads, however, leaving Amber Cove are not set up for pedestrians, and a walk may not be suitable for all.
We did, however, head into Puerto Plata and on an off-road driving adventure in the rainforest, which was great fun. We drove through huge puddles deep into the rainforest, where we stopped for a drink from fresh coconuts (cigars, optional!) and a dip in the ferociously wavy sea, before heading back for rum, DFC (Dominican Fried Chicken – so good) and fried plantain, washed down with pineapple wine and Chey Chey, an amazingly potent brew made from rum infused with whole spices.
I just loved the fusion of Latino and Caribbean culture on this island, having spent time living in Spain and travelling in Latin America. The beautiful Caribbean island is Spanish speaking and has embraced the thumping beats of Latino music in almost every bar, shop, café, and car. I just loved it.
There is so much more to do across the island, and indeed Puerto Plata. I recommend the cable car to Loma Isabel de Torres, San Felipe Fortress and Ocean World.
Guadeloupe
This was the first French Overseas Territory we visited (known in France as DOM/TOM). It's formed of two islands, separated by the Rivière Salée and joined by a road crossing. It is heavily populated in its capital, Pointe-à-Pitre, which is where we docked, and those familiar with France will notice that the road signs, cars, shops, banks, and many services are identical to those in mainland France.
Our excursion for the morning was to visit Parc des Mamelles, a zoo in the rainforest. We headed out into the rainforest on Basse Terre, stopping to admire bananas, pineapples and guava growing. The scenery is lush and verdant, and the beaches, sublime.
Downtown Pointe-à-Pitre is worth a walk for its colourful buildings and nice cafés, and the main square positively buzzing with music and market stalls. Whilst one can find a good espresso and French wine (although it is comparatively pricy) in a café, try the Ti Punch, which is a wonderful local rum punch, made from rum, sugarcane syrup and a dash of lime juice. The local food is more creole than French, and look out for lots of fish, including red snapper with passion fruit sauce, stewed conch, boudin creole sausage, accra and codfish croquettes.
The nearest beach to the port is around 10 minutes drive away. We spent the afternoon in the newly opened Memorial ACTe Museum, which was awarded European Museum of the Year in 2017. It was absolutely spectacular and hugely informing and moving. The museum tells the story of slavery in the Caribbean and uses the lessons of history to inspire the future and it is just brilliant. The presentation is thought provoking, mesmerizing and engrossing. Go, if you can.
St Lucia
St Lucia is the second largest of the four Windward Islands, with dramatic mountain peaks, dense forest and extraordinarily beautiful green landscapes. Our port in St Lucia was Castries, the island's capital. Here, there are buzzing markets, both indoor and outdoor, and a beach a short walk from the port.
We headed out to the Pitons, the iconic volcanic spines, which rise out of the sea on the west side of the island. It's a long and winding drive to get there, but the views are brilliant. From there, we trekked up to the rainforest to Sapphire Falls, an incredible waterfall and natural mud baths at the summit. It was quite the experience to cover ourselves with natural mud and relax in the hot spring water to soak it off.
We also visited a chocolate plantation nearby at Mourne Coubaril Estate, where we saw a rich array of produce growing on trees, including cocoa pods, arabica coffee beans, bananas, lemongrass and were given a coconut cutting demonstration, where we tasted the sweetest coconuts I've ever come across.
Martinique
Martinique was the second French Dom/Tom island on our itinerary. We arrived in Fort-de-France early in the morning, and headed out by road to the Carbet mountains for a walk in the rainforest, which was extraordinary. The vegetation is dense and lush, and being so high up, there were regular, heavy downpours, including a real deluge whilst we were in the rainforest. The flora is just wonderful on Martinique, and we took a drive around the island's north side, past Mont Pelée, the active volcano that devastated the island when it erupted in 1902, killing 30,000 in just three minutes.
We returned back to Fort-de-France for the afternoon. This is a really built up city, with a large population and all the services one would expect in a large French town, with shopping centres, cinemas and even a Galeries Lafayette.
We took the boat from the main quay across to Pointe du Bout and visited Anse Mitan, which is a really beautiful beach across the harbour from Fort-de-France. We used the Vedettes Tropicales service, which was very reliable, and tickets cost around 7 Euros each for a return. There were three services an hour when we visited, and the boats did run on time. There are other beaches really worth visiting on their routes, but we chose Anse Mitan as it was the quickest to get to, and it was glorious. We sunbathed in the shade of palm trees, snorkeled with amazing fish and even found a shipwreck to explore. I'd go back in a heartbeat.
Martinique is quite special amongst the Caribbean islands because it is so natural and unspoilt. Pesticides are not permitted, so everything is very natural and wild in a very beautiful way. It is also much tidier than other islands, where litter is a real problem, especially in the Dominican Republic, where rubbish is discarded anywhere and everywhere.
Grenada
Our next stop was Grenada, which is known as the Spice Isle, due to the abundance of fresh spices growing across the island. Their scent hangs heavily in the air.
We docked in St. George's and again took a drive up into the mountains to the Grand Etang National Park, where we trekked to a waterfall for a swim and warmed up with some seriously strong rum punches afterwards.
The trees were laden with cocoa pods and spices, including nutmeg, cinnamon, bay leaves and cloves. The nutmeg, for example, were huge, dark and rich in scented oils. Quite different to the ones we find in the supermarket back home. Naturally, I stocked up from local stallholders.
Heading back to St. George's, we had a look around the town, which is really interesting, and then took a taxi down to Grand Anse beach. This beach was just picture perfect and we had a truly magical few hours swimming and relaxing. Grand Anse is regarded as one of the finest beaches on the island and is around 15 minutes drive from St. George's.
St. Vincent
We arrived in to Kingstown very early in the morning. This was the only place we really experienced rain, and so the view was obscured when we first arrived. Fortunately, the clouds cleared and the steep hills and colourful buildings in Kingstown were revealed. It is a most enchanting town.
We didn't stay for long though, as we headed off on a private tour of Mustique. Mustique is a tiny island in the Grendadines, famous four its privacy and A-list inhabitants. It took around 90 minutes by boat to get to Mustique, sailing south past Bequia, and enjoying a couple of rum punches on the journey.
We docked in Britannia Bay and took a private tour if the island by car. It is just the most magical island. Home to some of the most famous and wealthy individuals in the world, including Mich Jagger, Bryan Adams and Tommy Hilfiger, for example. Britannia Bay is home to Basil's Bar, the famous beach side bar, which is currently closed and being rebuilt, operating as a tiny pop up until Spring 2018.
Perched above the Bay is The View, which is a good place to have lunch. The other option is the Cotton House Hotel inland. Wherever you go, do be sure to book ahead, as they only prepare enough food for pre-booked guests.
The island is very small, private and quiet, and of course, kept in immaculate condition. There is hardly any traffic, just three taxis on the island, and most people whizz around on Clubman buggies. It's so quite, there are dozens of tortoises quietly plodding around, and you'll see them all over the island.
There are some lovely beaches on the island, and we visited Macaroni Beach and Les Jolies Eaux, both of which were fantastic. The sea is so unspoilt and richly populated with turtles, fish and reefs, which made for wonderful snorkeling.
There is a high level of security on the island, and it's so quiet and private, you need not worry about leaving your bag on the beach and going for a swim. Everything about Mustique is pure bliss. If you get the chance to go, then grab the opportunity with both hands. You will see just why this is such a favourite island.
Travel tips
We mostly took tours organised by P&O Cruises, which we booked on board. There is a really wide range of excursions available, depending on your interests and level of fitness. They were generally priced around £50 for a half day, up to over £100 for a full day, per person.
Whilst not cheap, we generally enjoyed the tours, and found they offered us an easy way to see some of the island. There are always taxis waiting at the ports to collect tourists, but they are also expensive, and we did get ripped off in St. Kitts, which was frustrating.
When touring several islands, it's generally the easiest option to take US Dollars with you. The Caribbean islands take different currencies from island to island, but everywhere accepts USD. As Guadeloupe and Martinique are French overseas territories, the Euro is their legal tender. I have heard people use pre-paid currency cards, which work well. As we were staying on ship, most of our purchases were smaller and lower in value, so small denomination notes were most useful for tips, refreshments and small purchases from markets, where USD are accepted, but change cannot be given. Supermarkets and larger shops do keep USD change.
Watch out for poisonous plants, such as manchineel, which is found near the coastline on many islands. It is really poisonous and one should be careful to avoid it. Do not touch it, eat or pick the fruit, or stand underneath it in the rain, as the sap is poisonous. Do search for a photo to help identify it. We nearly sat under them a few times on the beach when searching for shade. Sometimes, the trunks are painted with a red stripe as a warning.
December is really the best time to visit the Caribbean weather-wise. We visited at the end of November, which was still warm – around 30 degrees every day. We did encounter some rain, but much less than can be experienced at this time of year.
We travelled to the Caribbean as guests of P&O Cruises. We paid for all our excursions and almost all onboard spending ourselves.