I have recently returned from my first ever trip to Northern Ireland. As many of you will know, I spent the first three months of 2014 down in County Cork in the Republic of Ireland training at Ballymaloe cookery school. Training at Ballymaloe was a unique experience. The school is run by legendary food writer Darina Allen, and one of the most special and unique aspects of the course is getting to know all manner of Irish ingredients and food producers in depth. This is something I found profoundly inspiring and fascinating.
With a deep understanding of the food scene in Ireland, I was very keen to find out what was going on north of the border. I've heard about a vibrant food scene emerging in Northern Ireland, and therefore, I jumped at the opportunity to visit Northern Ireland with the Guild of Food Writers (of which I am a member and now Committee member) on a trip organised for a small group of food writers organised by Invest NI.
After 48 hours in Northern Ireland, I left very reluctantly. It is no exaggeration to tell you that I was completely bowled over by the experience. Belfast is a most attractive city, with some really beautiful architecture to see and is culturally very interesting and vibrant. Further afield, you'll find some of the UK's very finest scenery – all a short drive from Belfast.
There are some truly innovative and exciting things going on in terms of food and drink in the area, with an ever increasing number of people turning to food as a career, creating some really interesting products using a mixture of time-honoured skills and bang-up-to-date techniques. Some have lived in the area all their lives, and an ever-increasing number are returning to Northern Ireland, with many having lived in London, Edinburgh and further afield, and are bringing their skills and knowledge back to the area. Belfast is also an increasingly attractive place to live, and some cooks and food producers are relocating, as the momentum around Belfast's food scene grows.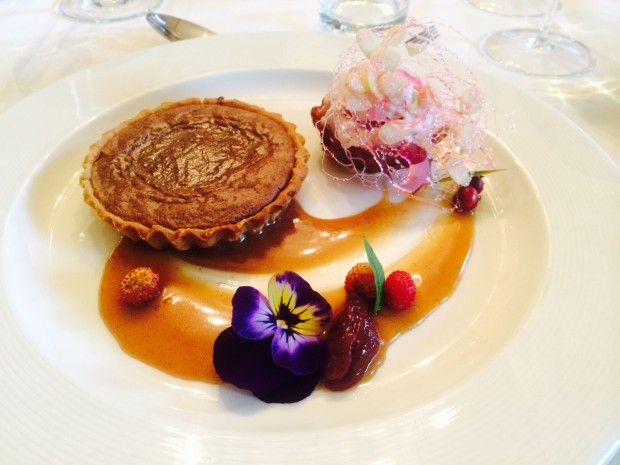 Where to eat
Northern Ireland is a fantastic place to eat out for so many reasons. Firstly, there are some truly excellent restaurants in the city – and some very talented chefs working there, creating sensational food. The abundance of exceptional local produce at their fingertips makes what they do a whole lot more exciting, and it is a pleasure to be able to enjoy such good local produce cooked so well. It is also worth mentioning that Northern Ireland remains very good value – you'll pay a lot less here for top-quality food than you can in many major cities.
Serving contemporary Irish food, this restaurant has been in operation since 2003 under the ownership of Niall and Joanne McKenna. Over the years, they've added two more restaurants and a cookery school to their empire, based on, you guessed it, James Street South, in the heart of Belfast city centre. Head Chef David Gilmore cooks with locally sourced ingredients to create a relaxed, yet interesting menu, with an exciting wine list to accompany.
Michael Deane and his lovely wife Kate also own a number of food destinations in Belfast, and I managed to try several of them whilst I was visiting. Deanes Deli Vin Café is a terrific find that transforms itself from a delicious spot for some lunch, to a cool bar at night, with live music, fantastic wines and sensational food. You'll be looked after by the charming and super talented Saul, who'll ensure a brilliant night will be had by all.
Deanes at Queens is across town, near Queens University campus. Its Head Chef Chris Fearon is one of the most exciting chefs I've come across to date. Some of you may know him from the Great British Menu. His whisky maple cured salmon with samphire was sublime, and I'd fly back especially to have it all over again.
Deanes Eipic in Howard Street is at the top end of the Deanes offering and provides a glamorous and sophisticated setting for the evening. Young chef Danni Barry is a very talented young lady and her food is lovely. Her menu changes very regularly depending on what's good – so you'll be guaranteed the freshest and best local produce served simply, but with a creative and surprising touch.
This is one exciting Deli. Chef Simon Dougan (one of the loveliest men you'll ever meet) runs this award-winning deli and outside catering business. Their food is to die for and they cater at a wide range of locations across Northern Ireland. Failing that, try their delicious breads in Belfast – they are really, really good.
What to eat
Here are some of my delicious discoveries from Northern Ireland to look out for:
This is a very special gin – distilled in small batches on the Rademon Estate in Downpatrick, County Down. Using the finest botanicals (a blend of juniper, coriander, cinnamon, orange and lemon peel and elderberries), their own freshly drawn water and a custom build copper still, they produce some truly excellent gin which is hand bottled, waxed and labeled before sending off to select retailers. Look out for it in Fortnum & Mason – it's delicious.
You may have heard about these lovely people on the BBC Radio 4 Food Programme some time ago. Will and Allison Abernethy make utterly delicious traditional, hand made butter on their farm which is nestled in the Dromara hills in County Down. This butter is made from local cream and just a dash of salt, giving a rich yet pure flavour to their exceptionally good butter. Each pat is hand rolled and wrapped in brown paper before being sent to Fortnum's and other top restaurants around the UK. Simply divine.
Leggygowan Farm in County Down is run by Adam Kelly – ex insurer, now cheese maker extraordinaire. Adam makes some really delicious blue cheeses and a fabulously silky goats cheese using milk from their own tribe.
These baked goods were one of the real highlights of my visit. This is a true artisan bakery, based in Belfast that makes some of the most delicious breads I've ever tried. The treacle wheaten bread is out of this world. What's even nicer is that the breads are made using traditional, time honoured methods. You will find the bread at Belfast's St. George Market.
These eels are a true Northern Ireland delicacy, in fact, a huge quantity is exported to Scandinavia, too. Lough Neagh is situated on the outskirts of Belfast city, and is Europe's largest eel fishery. These wild eels are caught on the Lough, and sold either smoked or unsmoked. We tried the unsmoked eel which was delicious and is highly recommended.
Mark Douglas is such a charming man and an extremely talented baker. With over 30 years of baking experience he produces some of Ireland's most famous and delicious traditional griddle breads on a gas-fired griddle at food markets and events all over Northern Ireland. His soda farls, potato bread and apple pancakes are all totally delicious. Stock up and enjoy them toasted the next day, too.
Based in Belfast, Suki teas create a really lovely range of loose leaf teas and interesting fruit and herb blends that are available widely across the UK. Their Belfast Brew and Apple Loves Mint blends are exceptionally delicious, and taste even better knowing all their teas are made using Fairtrade, Organic and Rainforest Alliance Certified ingredients.
Mike Thomson is a farmhouse cheese making enthusiast and is creating some really interesting cheeses in Northern Ireland. Young Buck is a delicious blue cheese and the first raw milk cheese in Northern Ireland. A must-try.
Pat is a thoroughly lovely chap and runs his eponymously named family butchery in County Fermanagh producing some of the most heavenly black pudding I've ever tried. If you're in Enniskillen, you simply must try one of his pork pies and black bacon.
Mr. Hannan is responsible for some of the finest meats eaten across the British Isles. His company produces a huge range of beef and pork products, which are just sensational and are sold in some of our best restaurants in the UK. All of Mark Hix's meat comes from Peter, for example. Seek out his products if you can – they are exceptional.
Established in 2003, Martin and Tracy Hamilton set up this award-winning company making homemade potato products and ready meals in 2003, to use the produce from their farm in producing delicious Irish dishes. They use ingredients and methods you'd use at home and their products are delicious and available in Waitrose and Ocado.
Thank you to Invest NI for organizing this trip and inviting me to visit as a guest along with members of the Guild of Food Writers.