South East Ireland is renowned for its superb food, both in ingredients and places to eat. There is a huge amount of talent here in the food world. This part of Ireland is also one of the most easily reached by vehicle from the UK, and so I recently headed over to Ireland on the ferry, in my car, to discover the very best the area has to offer.
Where to eat and what to do
The culinary scene in South East Ireland is rich and diverse. The combination of lush green fields, mountains and coastline all make nature's larder richly stocked, and fortunately so many establishments make the most of the best local ingredients on their menus.
And so where to eat? Let's start with breakfast – if you take the night ferry over, like me, this will be the most pressing question. I suggest pressing on to Waterford, which is a nice spot for a stop. Head to Broad Street for a selection of cafés where you'll find good coffee and some nice breakfast options, such as scrambled eggs on sourdough or freshly baked pastries. Look out for a blaa – a special white roll made in Waterford with protected status, which are rather delicious and only available in this part of Ireland. And a look around the world-famous Waterford crystal factory is recommended.
Heading further south from Waterford, you'll soon get to Dungarvan, which is a very foodie harbour town in Country Waterford. It is small but most attractive and is a wonderful place to stop. Irish celebrity chef Paul Flynn is based in Dungarvan and runs The Tannery Restaurant, cookery school and townhouse. The Tannery is one of the foodie highlights in South East Ireland and is a really great place for a special dinner. Paul's food is very much based around excellent Irish ingredients. His Modern Irish style manages to combine sensational flavours, beautiful presentation and hearty portions.
Heading further south, you'll get to East Cork, home to Ballymaloe House and the world-famous Ballymaloe Cookery School. This is one of the most foodie corners of Ireland. The above photo was taken at the cookery school. They run daily courses across a wide range of cuisines, and are set in 100 acres of gorgeous gardens which are absolutely fantastic to explore. Much of the produce used in the school is grown in the gardens, and it is hugely enjoyable to walk around and see such a gorgeous array of delicious ingredients growing organically. Ballymaloe House restaurant is one of the most famous restaurants in Ireland, and really is the home of Irish country cooking. Dinner is a five course affair, where you will try ingredients fresh from the garden, and from today's fishing boats in Ballycotton, and a fantastic selection of Irish farmhouse cheeses.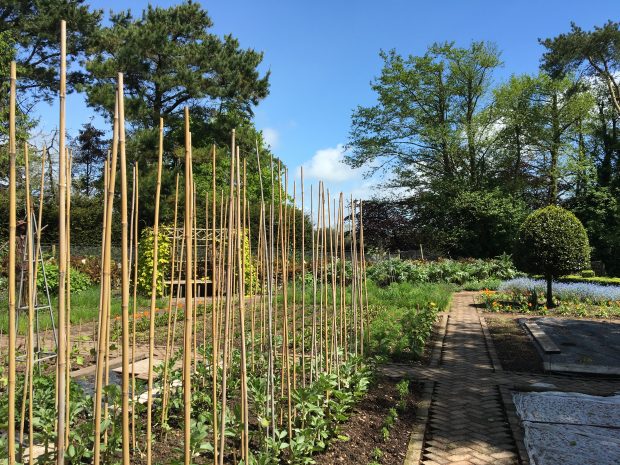 Whist in Shanagarry village, head to Stephen Pearce Pottery for a look. This pottery has been running since the 1950s and produces some lovely pieces that can be found in use all over Ireland and further afield. It is a true working pottery with a very sweet cafe, and really worth a small detour. Nearby too is Ballycotton, a small fishing village, that offers some gorgeous walks along the coastline and boat trips from the harbour.
Midleton is a medium sized market town, which was my next stop, en route to Cork city. It's home to some excellent restaurants, Farm Gate and Sage, as well as the Jameson whiskey distillery, where a tour is highly recommended. Midleton is also home to a superb farmers market every saturday morning which is really outstandingly good, both for ingredients and street food and takeaway drinks.
Where to stay
My base for this trip was Cork City, and I stayed at Hayfield Manor Hotel. Regarded as the best hotel in Cork, it was a really special place to stay. It's a fantastically elegant and luxurious house hotel sat in its own private plot on the edge of the city, very close to University College Cork. It feels pleasantly separate from the surrounding city, but is only five minutes drive and around fifteen how to order cialis online safely minutes walk from the city centre.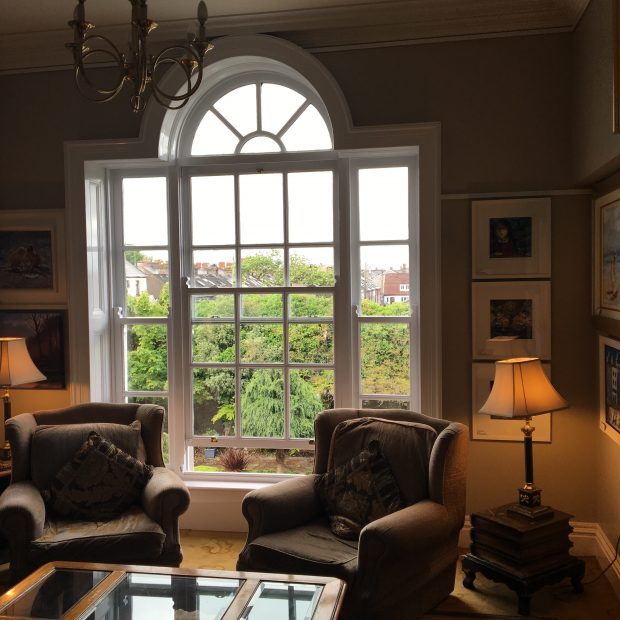 This is a true five star hotel. The staff are very warm, friendly and helpful, and it has every service one could need to hand. Rooms are very large, light and comfortable. Beds are huge and extremely comfortable. There's even a little putting set in the room, which was a huge hit! There's a real feeling of calm, quiet and space at Hayfield Manor. Rooms feel like a a true retreat away from it all, which really helped us to relax as we stayed at a very busy time for us.
Bathrooms again are huge (much larger than the photo shows) and well stocked with Elemis products. After a long night travelling over to Ireland on the ferry, a long, hot soak in the bath was just what I needed. There was a huge walk in shower behind me in the photo. And for more relaxation, the pool and spa in the hotel are a must-visit.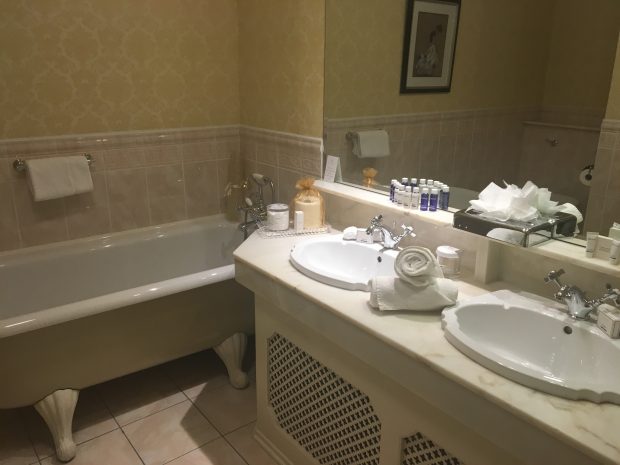 Breakfast is taken downstairs in Orchids, the flagship restaurant. Breakfast was good, with plenty of choice on the buffet and a selection of hot dishes, cooked to order. There are a choice of two restaurants at Hayfield Manor, although I didn't manage to try either as they were full when I visited, which must be a good sign. One of the most special parts of Hayfield Manor is the bar. It is one of the most elegant cocktail bars I've ever visited. Staff are a complete delight, so do get dressed up and go down for some drinks – it's really special here.
How to get there
Irish Ferries run between Pembroke and Rosslare in County Wexford, and is the quickest way to get over to Ireland with the car from the south of the UK. From the north, there is a super fast crossing from Holyhead to Dublin, and it'll take 2-3 hours to drive down to County Wexford from Dublin.
Irish Ferries run several crossings per day and regularly run promotions on their website, so do look out for special offers. There is a £79 one-way per car and driver offer, which is competitive. A cabin is a good idea for night crossings if, like me, you just can't sleep in a chair. A food writer I know who travels over regularly recommended an upgrade to Club Class to me – you get blankets and free drinks – and that might be a good option, too.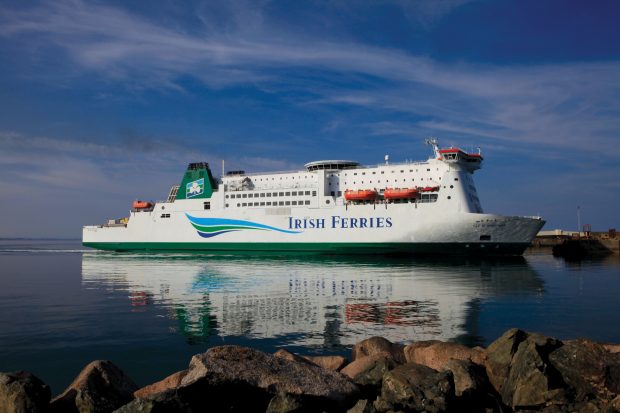 Taking the car over to Ireland is a sensible idea if you plan to travel around. The public transport network is quite limited in terms of coverage across the country and frequency of service, and this is felt more keenly outside of Dublin and Cork city centres. It is almost always cheaper and easier to take a car rather than to hire one, and of course, not having luggage restrictions on both weight and contents are a good thing – especially if, like me, you can't resist bring plenty of Irish food and drink back with you.
As Brand Ambassador for Mitsubishi Motors, my road trip to Ireland was the perfect opportunity to take my Outlander PHEV for an eco road trip. Wonderfully comfortable both to drive and for all passengers, and with acres of space for luggage and shopping, it really was a complete joy to cruise around Ireland in. Being a PHEV model – a petrol and electric hybrid – you will find charge points dotted around Ireland. There are quite a number in major cities, too. Do check your route online for charge points in advance – some maps and apps can be unreliable. But even running the Outlander on petrol is extremely economical. And for those of you who may be wondering – and I'm often asked this – Ireland drives on the left, the same as the UK. Speeds are measure in km/h.
Thank you to Irish Ferries for assisting with the ferry, to Hayfield Manor for inviting me to stay as a guest and to Mitsubishi, for whom I am a Brand Ambassador.