I can't quite believe it's been a week since I last blogged.  But then I look back and think about my week and realise that it's been quite a hectic few days. I had a good day in the kitchen again on Thursday, and spent some time practising my techniques for the mid-term exams on friday.
We were given a list of techniques which we would be expected to know how to do, such as fillet a fish, joint a chicken and so on, and also a list of foods we could be asked to identify, plus a number of additional techniques we were required to be familiar with. I hadn't managed to cover all of them in the course yet, so spent quite a bit of time practising, as I had missed a number when I was ill the week before. Our exams were scheduled for friday afternoon, so we had a demonstration morning (pizza making with Rory) beforehand. Below is a photo of one of the breads we looked at. I was one of the first up, and was so nervous, I could hardly finish my lunch, which was a shame as Philip cooked us pizza in the wood-fired oven, too. I raced back to change into my whites and before I knew it, was being called into the exam room. I was feeling really nervous, and don't remember too much about the exams, except for that I thought the theoretical side went well, but I messed up the practical. Nothing new there! I was so annoyed with myself afterwards, but what is done is done.
I had a nice weekend which provided me with a little break to escape from the Ballymaloe bubble. On saturday, I took myself to the Crawford Gallery in Cork City for lunch, which was very enjoyable. And on sunday we had lunch at the cafe at Ballymaloe, which was also good. I really like it there – it's so simple, but the food is generally good – just the kind of thing I want to eat at the weekend.
I had a busy couple of days to start the week in the kitchen. Monday was a good day, and I am with John in kitchen 3 this week which is great. Tuesday wasn't so good – one of those days when you can't seem to do anything right, but I don't think I was the only one feeling this. Still, I took myself for a walk after class, which was a lovely opportunity to get some air and have a change of scenery.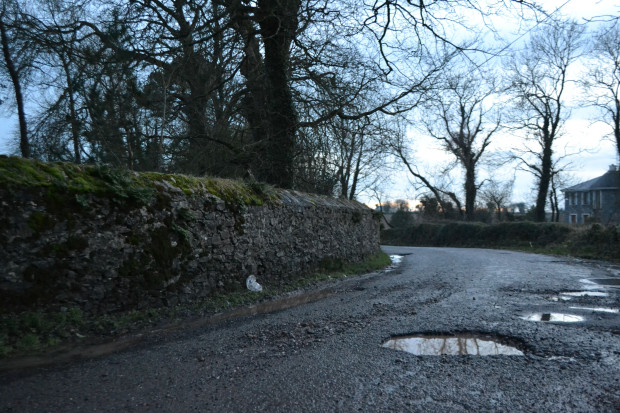 Yesterday, wednesday, was a different day, as we cooked today instead of having a day of theory. I got up early and went to do the organic gardening class with Susan Turner which was just wonderful. Although I didn't have too much to do in the kitchen, I still managed to take forever to finish my cooking. As someone who did the course recently tweeted me:
Bill King
 @billlking 
@CharlotteKDiary
time works at a different speed inside the Ballymaloe Bubble. Days are half as long and recipes take twice as long.
I couldn't put it better myself! I was on cleaning duty after wolfing down my lunch, and so I had no break before sitting down for afternoon demo, which does make it hard to concentrate for 3 1/2 hours! We did have a good demo with Rory though – he is great to watch and full of great tips and advice. I went for another walk again last night – it's been so nice to finish in the daylight over the last week or two.
As you can see, it's still pretty bleak at this time of year. But I've been really enjoying seeing the countryside and exploring Ireland a little more. Apparently East Cork is very busy in the summer with tourists coming to visit. It's hard to imagine at this time of year – it is very beautiful, but in a different kind of way.
I have a very nice end of the week to look forward to. Lovely
Jude
is coming out to visit her son John, with whom I am cooking this week, and my parents are coming for the weekend. I am really excited already.