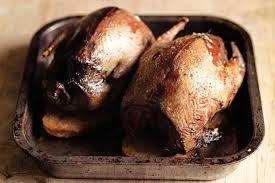 Roast grouse is such a treat. I cook a lot of game – mainly venison, pheasant and partridge – but grouse, less often. Living in Dorset, it isn't the easiest thing to get hold of when in season. My local game dealer can source it from Scotland, but at £20 a brace, it's quite a treat.
For me, the best way to cook it is to roast the birds whole and serve them on the plate as they are. If you've never cooked grouse before, you might not realise just how easy and quick it is to do. It's a great dinner party dish to do for the crowds, and indeed, I cooked it for a dinner for 40 people twice this season. I love game and am fortunate to find it easily now I live in the country. If you are curious, I urge you to try it. Its flavour is delicious and unique, and it's exceptionally good for you, too. The smell of grouse can be quite pungent and some people prefer their birds less high than others. I don't think the strength in aroma is as strong as the flavour of the meat though. Please don't let this put you off.
Here's what I do. You'll need one grouse, a sprig of sage and two rashers of streaky bacon per person, plus a little oil, salt and pepper. That's it.
Start by cleaning and drying your grouse. Ensure any excess feathers are removed. Heat a generous glug of olive oil or beef or duck fat in a large, heavy frying pan. It needs to be really hot. Place the grouse into the pan and fry, to brown across each breast and the underside. Once browned, place in a large, low-sided baking tray. You may need to do this in batches, depending on how many grouse you are cooking.
Preheat the oven to 220C Fan – it needs to be really hot. The top oven on the Aga isn't hot enough for this, I find. Take the browned grouse, season well and cover with two slices of smoked, streaky bacon, tucking any excess inside the cavity. Add a sprig of sage to the cavity and set aside in the roasting tray.
Once the grouse are prepared, place into the oven and roast for 10 minutes. No more, no less. Remove from the oven, cover in a couple of layers of tin foil and allow to rest for around 15 minutes before serving. Turn the birds over, and rest them breast side down. Leave the bacon on. The grouse will be quite pink , but I am convinced this is the best way to serve it.
I'll generally have made the roast potatoes, bread sauce and gravy before roasting the grouse, and while the birds rest, I will put the vegetables on to cook lightly before serving.
Personally, I'm not a fan of game chips, so I serve roast potatoes instead, cooked in beef or duck fat. Some people I know serve really good quality potato crisps instead of making their own game chips, which are the traditional accompaniment.
Breadcrumbs are essential here. I make mine by blitzing a large ciabatta loaf in the Magimix to form rough, fairly small breadcrumbs. I then melt around 40g butter and cook the breadcrumbs in the butter over a moderate heat. Then, I spread them out onto a baking tray and place them in the warming oven of the Aga or the oven set at around 100C until I'm ready to use them.
Bread sauce is also essential – I don't have my own recipe for this – I use one like this – a little cream is a really lovely addition, as is plenty of freshly grated nutmeg.
Red wine gravy is a delicious accompaniment, and I make mine from scratch using Constance Spry's recipe out of preference, but you can use any recipe you like.
The game season may nearly be at the end, but I'm making the most of it here and enjoying these delicious meats while I can.