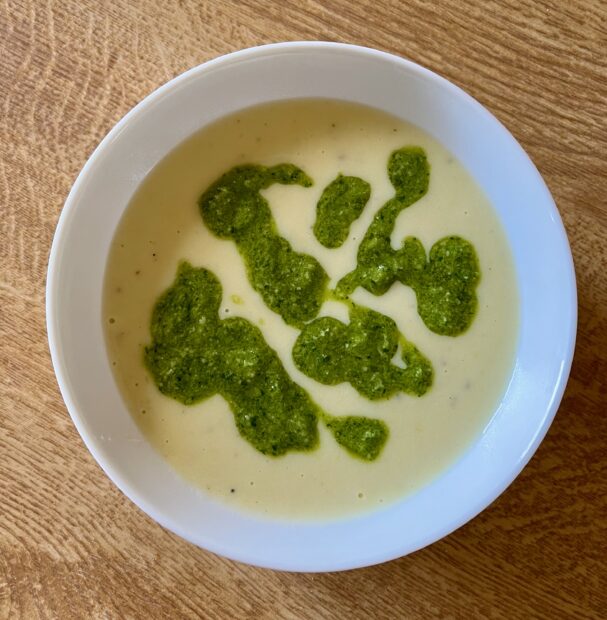 This is such a simple soup, but it is amazingly rich and complex in flavour. Somehow, it really is greater than the sum of its parts. It makes a terrific lunch with some fresh bread or even cheese scones.
Potato Soup with Parsley Pesto
Serves 6
Ingredients
50g butter
1 large leek, washed and thinly sliced
2 cloves garlic, peeled and chopped
500g floury potatoes, peeled and cut into 1cm cubes
Sea salt and lots of freshly ground pepper
800ml vegetable or chicken stock
100ml cream
Method
Melt the butter in a heavy saucepan. Add the leeks and potatoes. Sprinkle with salt and pepper and sweat on a gentle heat for 15 minutes. Add the stock and cook until the vegetables are just soft. This should take around 20 minutes. Add the cream, blend the soup, taste and adjust the seasoning.
Put a swirl of parsley Pesto on top of each soup before serving.
Parsley Pesto
Serves 6
Ingredients
75g parsley
50g parmesan, grated
Large pinch sea salt
150ml (approximately) extra virgin olive oil
Method
Put all the ingredients together into a blender and whizz together until evenly combined and they form a dropping consistency. Taste and adjust the salt if it needs a little more.