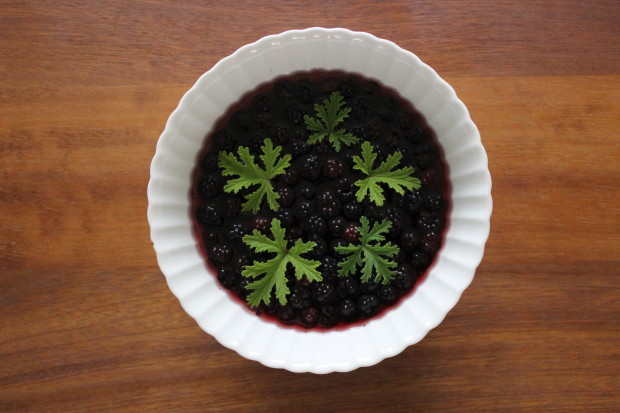 Poaching berries in a light syrup with a herb or spice is one of my favourite ways to use up a glut of berries.
Fresh berries can have a terribly short shelf life, and this is a way of preserving fruit for a few more days. Whilst I share concerns over excessive consumption of sugar, I would stress that you are most likely not to consume all the syrup. You need this quantity to poach the fruit gently, allowing it to retain its texture and shape. Any less would turn this into a fruit compote, as the fruit would be in direct contact with the bottom of the pan.
If you have any syrup left, it'd be great added to some fruit purée to make a sorbet, or frozen into ice cube trays to make flavoured ice cubes to add to summer drinks.
Black currants and raspberries work particularly well here as an alternative. I keep two rose geranium plants (grown from Ballymaloe cuttings) on my kitchen windowsill, as I adore their fragrance and add them to so many fruit dishes I make.
Wild blackcurrants are infinitely more flavoursome than their cultivated counterparts, which are found in many supermarkets. It really is worth picking as many as you can when they're in season and keeping a stash in the freezer, which is what I do. You can tumble frozen berries straight into hot syrup and leave them to poach. These are particularly special spooned warm onto vanilla ice cream for an easy but scrumptious pudding.
Poached Blackberries with Sweet Geranium
2015-11-18 13:51:19
Serves 6
Nutrition Facts
Amount Per Serving
* Percent Daily Values are based on a 2,000 calorie diet. Your Daily Values may be higher or lower depending on your calorie needs.
Ingredients
750ml water
650g caster sugar
500g blackberries, cleaned and stalks removed
6 large sweet rose geranium leaves
Instructions
Place the water and sugar into a pan and heat over a moderate heat. Stir intermittently to dissolve the sugar and ensure it doesn't stick to the bottom of the pan.
Once the sugar is dissolved, remove from the heat and add the blackberries and sweet geranium. Set aside to cool. The berries will poach in the residual heat, still retaining their texture, and the sweet geranium will release its fragrance.
Keep refrigerated once cool, and store in an airtight container in the fridge, where the fruit will keep for a week.
Charlotte Pike https://www.charlottepike.co.uk/