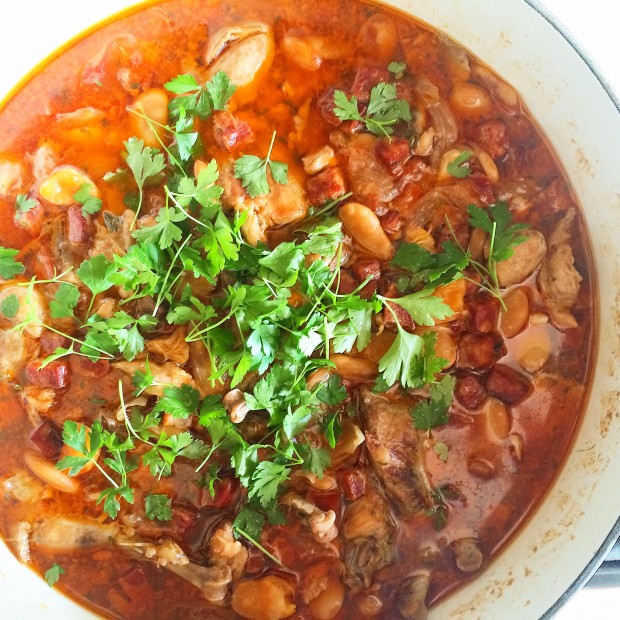 This is a recipe I've been meaning to share with you for a while. With a book to finish and a lot of work on, I'm sorry I'm sharing this with you now, after the shooting season has finished.
I'm a big fan of one-pot cooking, and this casserole is one of my favourite recipes to cook for a shoot lunch. People seem to love it, and it makes a very warming, nutritious and flavourful lunch. What's particularly nice about it is that it's quite a light casserole – no thick sauce or stodgy ingredients, yet it is richly flavoured. It is a welcome lunch after a cold morning outdoors, but not one that will leave you feeling like you need a snooze after eating it.
I am a country girl and enjoy all wild meat and game, but I know many of you are reluctant to cook pheasant, particularly because it can so easily become very dry indeed. This is a great way of cooking pheasant, as it keeps it moist, helped along the way with plenty of white wine and the fat from the chorizo.
You'll notice I don't use the drumsticks. I think it's best to roast these, either in a slow oven or the bottom oven in the AGA, and make them into buy sildenafil citrate online canada stock, rather than put them in the casserole. This is because of the tendons, which creep out of the meat when it's cooking and aren't a pleasant addition to the dish.
Pheasant doesn't need hours of cooking to become tender. It needs to simmer gently over a low heat, and I prefer to leave it on a very low heat for at least four hours, to allow the flavours to mingle. This can be done over a low heat on the hob, in a slow cooker or, if your Le Creuset will fit (the 30cm does, but the 40cm does not), in the bottom oven of the AGA.
Some of you, I know, will have quite a stash of pheasant in the freezer, and this is a great way to use a brace up. If not, most butchers will continue to sell frozen pheasant throughout the spring. If you haven't bought it before, I urge you to try this delicious wild meat. You might be surprised to find that a brace (two birds) is cheaper than a single chicken, and the shot will have been removed and the bird prepared.
I hope you enjoy what is one of my very favourite and most popular recipes in my shoot lunch recipe collection.
Pheasant with chorizo and butter beans
2015-03-11 15:22:11
Serves 8
Nutrition Facts
Amount Per Serving
* Percent Daily Values are based on a 2,000 calorie diet. Your Daily Values may be higher or lower depending on your calorie needs.
Ingredients
2 tbsp extra virgin olive oil
2 large white onions, peeled and thinly sliced
6 cloves garlic, peeled and chopped
A brace of pheasant, butchered, with the thighs and the breasts halved and used with the skin removed.
Salt and pepper
400g cooking chorizo, sliced
1 x 400g tin butterbeans, drained and rinsed
1 bottle dry white wine
2 bay leaves
A large sprig fresh thyme
Plenty of fresh flat-leaf parsley to serve
Instructions
Heat the oil in a large frying pan over a moderate heat. Add the onions and cook gently for around 5 minutes until softened. Add the garlic and continue to cook for another 5 minutes. Add the pheasant and fry until lightly browned. Remove these ingredients from the pan and place into a large casserole dish or a slow cooker. When cooking for a shoot lunch, I use a very large Le Creuset – either a 30 or 40cm size.
Now, place the chorizo into the frying pan and fry to lightly brown around the edges. This should take around 10 minutes. Be careful not to turn the heat up too high or else the chorizo will burn.
Transfer the chorizo to the casserole or the slow cooker and add the butterbeans, wine, bay leaves and thyme. Cover and cook over a slow heat until the pheasant is very tender. The cooking liquor should reduce, but you can always give it a blast with the lid off on the hob to reduce it further, should you wish.
Serve generously topped with fresh parsley and some mashed potato or some delicious fresh bread and a green salad.
Charlotte Pike https://www.charlottepike.co.uk/