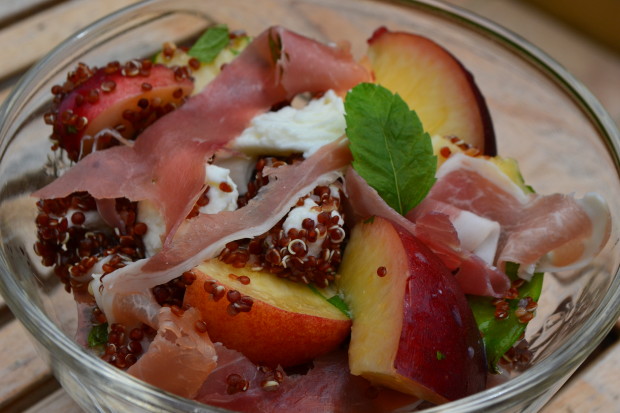 In search of a simple, quick and healthy lunch this week, I decided to give this salad a go. I had some delicious Organic red quinoa from the health food shop to try, some parma ham and mozzarella in the fridge, as always, some fresh mint in the garden and some ripe white nectarines. It was a really lovely combination of flavours and definitely one I'll be making again soon. If I fancied a lower carbohydrate lunch (as I often do), I think I'd substitute the quinoa for some fresh pea shoots, which are currently my favourite salad leaf.
Nectarine, prosciutto and mozzarella salad 
Serves 4
Ingredients 
150g red quinoa
8 slices proscuitto, torn into strips
1 ball Buffalo mozzarella, drained and torn into strips
2 ripe nectarines, cut into small chunks
1 tbsp olive oil
1 tsp lemon juice
Sea salt
1 handful fresh mint, chopped
Method 
Cook the quinoa according to packet instructions. Mine said to boil for 10 minutes. Drain well and allow to cool.
Once the quinoa has cooled, add all the remaining ingredients, adding salt to taste, and stir well.
Serve immediately. This salad doesn't keep.