A really good Madeira cake is such a pleasing, delicious and nostalgic cake. Although it is such a simple cake, it is far from boring when made with the best ingredients. It absolutely must be made with pure butter and a great quality vanilla extract for the best flavour. I like to add a little lemon zest to cut through the richness. Seeds also work well here, either poppy seeds or even caraway seeds to make a traditional seed cake. Two heaped teaspoons of one or the other will be enough.
This is an excellent cake to make as a present, or to serve to visitors, either with tea or coffee, or as a pudding, perhaps with some fresh berries and homemade ice cream.
Above all, this is a most useful recipe for any cook to have in their repertoire and a great recipe for less experienced cake makers to start with.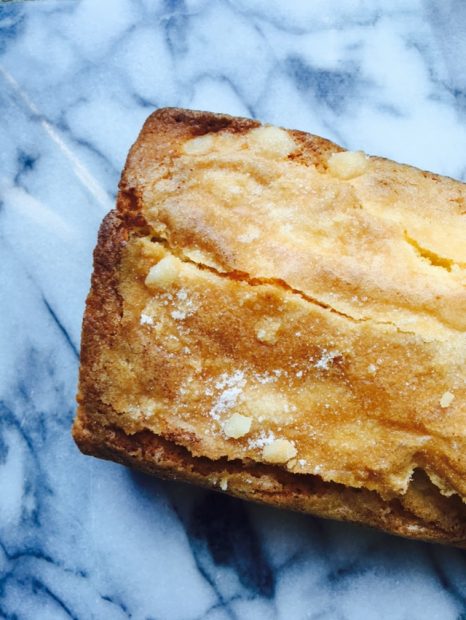 Madeira Cake
2016-05-29 17:00:56
Nutrition Facts
Amount Per Serving
* Percent Daily Values are based on a 2,000 calorie diet. Your Daily Values may be higher or lower depending on your calorie needs.
Ingredients
250g salted butter, softened
200g golden caster sugar, plus 20g for sprinkling
1 tsp vanilla extract (I used Ndali)
Zest 1 unwaxed lemon, finely grated (I use a Microplane)
3 large eggs, beaten
300g self raising flour
Instructions
Preheat the oven to 170C/Gas Mark 3. Grease and line a 2lb/900g loaf tin with non-stick baking parchment paper. Set aside.
Place the butter, sugar, vanilla and lemon zest into a large mixing bowl or stand mixer and beat well until light and fluffy.
Add the beaten eggs and beat until incorporated into the mixture, followed by the flour, sifted in.
Fold the thick batter together until all ingredients are evenly incorporated.
Tip into the pre-prepared tin, smooth off and sprinkle with the extra caster sugar.
Bake for 50-60 minutes in the pre-heated oven until well-risen, a rich golden brown and a skewer inserted into the centre comes out clean. Remove from the oven.
Allow to cool in the tin for 20 minutes before carefully removing, peeling away the paper and allowing to cool fully on a wire rack.
Serve just warm, or once cool.
This cake freezes well and will keep for up to 5 days in a sealed box.
Charlotte Pike https://www.charlottepike.co.uk/