Feast of Dorset- the recipes
We had a jam packed weekend at Feast of Dorset.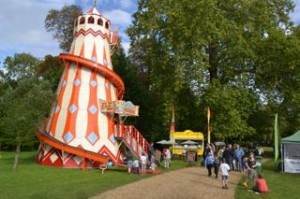 Although I was booked to cook there on the Sunday, we all decided to head down to Dean's Court, the beautiful venue in my home town of Wimborne in Dorset, to see what was going on a day early on the Saturday. The site was packed and the sun was shining.
Dean's Court is one of Dorset's most idyllic private ancestral homes, dating back to the 11th Century. It is, in fact, set in the town centre itself, with a very discreet entrance. So much so that most people living in the town haven't even realised that the estate even exists, let alone have visited it. Home to a wonderful apiary, well-stocked kitchen garden and a lovely orchard, it is the perfect foodie venue for the festival.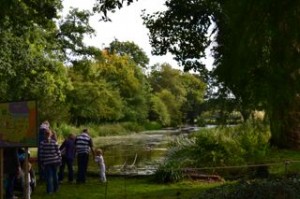 Having grown up in Dorset, I am clearly biased somewhat towards the county. However, I do think it is simply a matter of fact for me to state that there are some wonderful food producers and chefs in the county, and a great number of them support this festival. They include Anna del Conte, Lesley Waters, Mat Follas, Rose Prince, Jez Barfoot and many more. It was a great privilege for me to be part of the festival.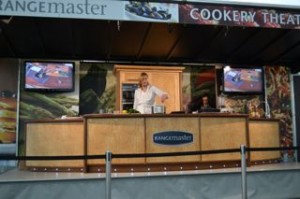 Our first port of call was to watch Rose Prince cook. I am such a great fan of Rose Prince's cooking. I really admire her ethos of using great British produce where possible, and of her attitude towards sustainability. Rose cooked three lovely dishes; a chestnut and honey soup, John Dory with brown butter and fresh herbs and a grape strudel, all of which looked delicious, but sadly we were not allowed to taste the food once it was cooked. I was lucky enough to chat with her afterwards about her cookery books. I was pleased to hear that my favourite, The New English Kitchen is her favourite, too!
We then took a tour of the site, which was jam packed with food stalls selling takeaway food and produce. Spoilt for choice, I tried some Mackerel from a Weymouth based company, who have been involved in Hugh's Fish Fight, which was very good. As the others went off to have a go at archery, I peeled off to go and inspect the glorious kitchen garden. I thoroughly enjoyed inspecting their bounty, wishing I could have a kitchen garden of my own. One of the highlights was this lovely apple stall, which displayed a huge number of apple varieties, which was fascinating.
We went home very happy and I spent Saturday night prepping for my demonstration on Sunday.
Sunday morning arrived and we awoke to the sound of heavy rain lashing down outside. It was a truly grim morning. Unperturbed, we set off to Dean's Court arriving laden down with all my kit. Fortunately, the rain hadn't put many people off and the tent was packed full for my demonstration, which is the first one I've ever done wearing my wellington boots!
For those of you who have asked, my recipes are below. So, thank you, Feast of Dorset, and look forward to next year!
Blackberry fool
A simple and seasonal dessert. It has a distinct autumnal flavour, yet is still light. Perfect for this time of year as we head into autumn.
Serves 4
400g blackberries (I prefer wild blackberries which you can find at this time of year for free)
3 tablespoons sifted icing sugar (although adjust to taste)
200ml double cream, whipped
200m whipping cream, whipped
Method
Place the blackberries into a shallow bowl. Add the icing sugar and stir in.
Then, mash the fruit until the fruit starts to break down. I like to leave some larger chunks of fruit though
Whip the creams separately in individual bowls. Tip both creams into one bowl and add the blackberries and gently fold until it is roughly combined. I don't like to over-mix this so as to retain as much air in the cream as possible. I also like to retain some purple streaks through the cream, which looks so pretty, so mix as little as possible to get this effect.
Serve in glass bowls. You may wish to adjust the quantities of icing sugar and the ratio of cream to fruit to taste. I personally don't like to add too much sugar as I don't have a particularly sweet tooth and I love the flavour of the berries on their own, particularly as I use wild berries when I can which have a much more interesting flavour than supermarket berries.
Spiced plums
These spiced plums make such a delicious treat. Have them on their own or with yoghurt or porridge for breakfast, delicious in a plastic container taken for a packed lunch or an indulgent dessert served with ice cream and are completely gluten free and vegan. You could try a non dairy ice cream with this. But I like to serve them spooned onto my blackberry fool (recipe above)
Serves 4
500g plums. I use English plums at this time of year. I like Marjorie Seedling or Victoria, which are amongst the easily available varieties.
4 tablespoons caster sugar (again, to taste)
4 tablespoons water
2 whole star anise
1 vanilla pod, slit lengthways and seeds extracted
1 cinnamon stick
Slice the plums into halves or quarters, removing the stones
Sprinkle over the sugar and water
Add the spices. Make sure the vanilla seeds are mixed into the water and add the vanilla pod for now
Heat on the hob on a low heat until the fruit softens. This should take about 10 – 20 minutes. Try to ensure the temperature is not too high as the fruit will turn into a puree. I prefer for the fruit to remain as its shape and texture as much as possible
Remove the whole spices before serving.