This is one of my favourite salads from the Middle East. The sumac berries carry a citrus flavour, which makes this salad wonderfully refreshing.
Ideally, I'd use purslane for a delicate salad, but if you can't get it, I'd consider using a romaine lettuce. Both are used in the Middle East. If you're using purslane, you need to eat the salad pretty much as soon as it is dressed.
Traditionally, the fattoush would have a crunchy topping, made from fried stale pitta bread. I don't think the salad needs this, and, as I need to cook gluten free at home, I just leave them off and don't miss them.
As always, make sure your tomatoes are ripe and flavourful when you make this salad, as it will really help the flavours to sing. If they are firm, you're best off saving making this salad for another day.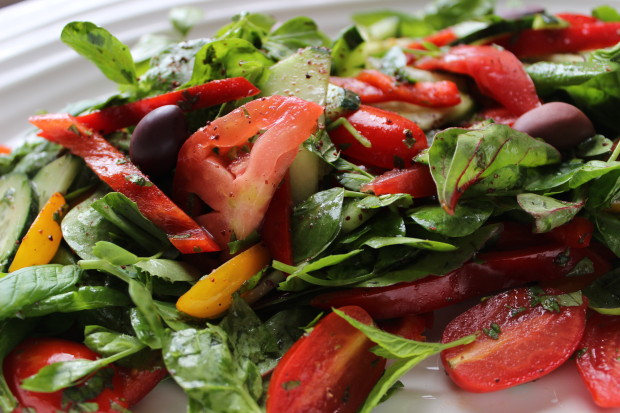 Fattoush
2015-10-29 09:51:53
Serves 4
Nutrition Facts
Amount Per Serving
* Percent Daily Values are based on a 2,000 calorie diet. Your Daily Values may be higher or lower depending on your calorie needs.
Ingredients
400g mixed, ripe tomatoes
150g mixed leaves, or purslane
½ red pepper, deseeded and thinly sliced
20 Kalamata olives, stone in
½ cucumber, cut in half and sliced on an angle
2-3 tbsp extra virgin olive oil
1 tbsp sumac
Pinch sea salt
3 tbsp fresh mint leaves
Instructions
Gently toss all the ingredients together to combine. The leaves should be dressed very lightly. Taste to check the seasoning and serve immediately - this salad does't hang around for long.
Charlotte Pike https://www.charlottepike.co.uk/