I'm sorry it's been so long since I last posted. The reason for this is simply because I have been so completely and utterly snowed under from all directions.
I get into the school around 7 every morning, which is earlier than I need to go in, but I really want to find the time to make the things I want to make. We are allocated certain dishes per section per day (which is shared with a partner which also changes on a weekly basis) and that might mean that through the luck of the draw, you're cooking, say, carrots, roast potatoes and a roast chicken. So, I have been trying to make the time to cook the things I want to. This week, that has included six types of bread, croissants and puff pastry.
I often stay on in the evenings to finish off recipes, and with our orders of work and preparation for exams (we had to submit our final menu plans this morning and have a wine exam next week!), there is hardly a moment to spare all day.
But, the last few days have been a real mixture of good and bad. We've had some really fascinating demos from some really inspiring people, including Chef Paul Flynn (who is hilarious) and Mary Jo Wendel this week. We have been on a school tour, and have enjoyed lots of wine tastings, including some really delicious wines from the Wiston Estate in Sussex, home to Gabs who is on the course, too.
Spring has sprung over the last few days, too, and it is a complete joy to see the flowers around the school emerging, and having the opportunity to take coffee outside for 5 minutes. I even had a lovely lunch outside with Tim, Emily and Asta on Tuesday. lobster vol au vents in the garden, in the sunshine at lunchtime. That can't be bad!
There have been some really rubbish moments, including a complete meltdown in Kitchen One the other week. Poor Tracie and Pat, who happened to be around, I say.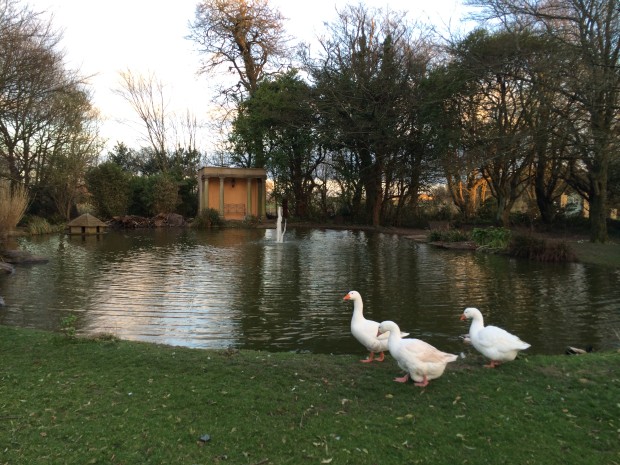 I have also made it up to Dublin since I last posted, which was fun.
For all that I'm not posting for the moment, I hope to go back over and fill in the gaps when I return, which is just over a fortnight away now. I've really enjoyed the last couple of weeks. But I now need to keep my stamina up and get through the next few weeks and the exams. It's bound to be tough in every respect.
I am managing to get some photos up onto Instagram every day, so please do pop over to see more there. I am @CharlotteKDiary.
I'll be back next week. Most likely after the wine exam. Oh yes, it's scheduled for 8am next Wednesday morning! Wish me luck!