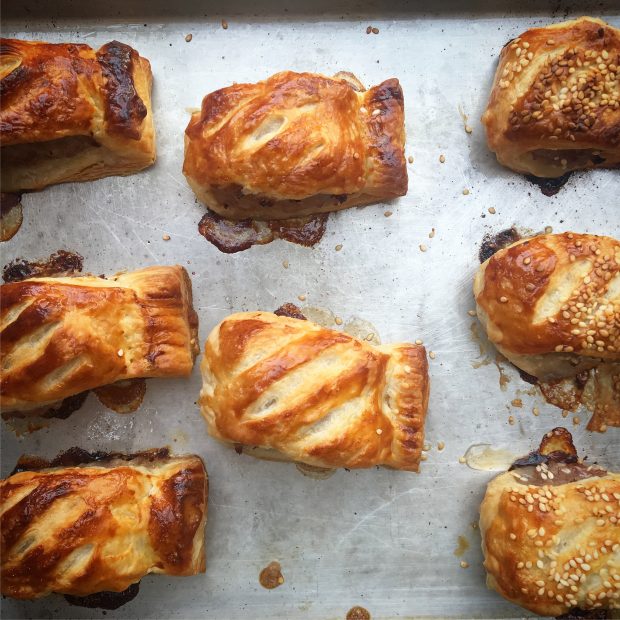 This is a very flexible recipe. Good quality sausage meat makes an excellent filling, and it is pre-seasoned, too. You can add extra flavours to the meat if you wish, such as dried chopped fruit, maybe apricots, or fresh herbs, such as sage. Try a sprinkling of sesame seeds on top of the pastry for an extra buy soma online legit layer of flavour. I often do half and half.
Good quality sausage meat and all butter pastry make all the difference here.
Make large sausage rolls for lunch or a picnic, or mini sausage rolls to serve with drinks. Either way, I promise you they'll be gone in a flash.
Homemade Sausage Rolls
2017-11-10 10:25:02
Nutrition Facts
Amount Per Serving
* Percent Daily Values are based on a 2,000 calorie diet. Your Daily Values may be higher or lower depending on your calorie needs.
Ingredients
375g pack all butter puff pastry, ready rolled
500g sausage meat
Sea salt and black pepper
1 egg, beaten
Optional
2 tbsp fresh herbs, chopped, such as sage
4 tbsp sesame seeds
Instructions
Preheat the oven to 180C/Gas Mark 4. Set out a large non-stick baking tray.
Roll out the pastry if yours is not pre-rolled. It needs to be about 3-4mm thick.
Form the sausage meat into an even cylinder shape, around 4-5cm in diameter for large sausage rolls and 2-3cm for small sausage rolls.
Start with the pastry set out in front of you in a rectangle in landscape form. Lay the sausage meat evenly along the length of the pastry right up to the very edge on each side, around 1/3 of the way down the height.
Fold the top of the pastry back over the sausage meat, ensuring it is tidily wrapped around the sausage meat. Where the seam sits on the top side of the pastry, cut carefully to form a small handle.
Cut the sausage rolls into individual pieces by slicing through the width of the large roll using a sharp knife. Transfer each roll to a baking tray, spreading them out well. Use a table work with long thin tines to gently press on the 'handle' to stick the pastry together. Brush with beaten egg and slash the tops, if you wish. Sprinkle with sesame seeds if you wish to use them and bake the sausage rolls until they are puffed and a rich, golden brown. This should take 15-25 minutes.
Transfer to a wire rack and allow them to cool before serving either warm or completely cold. They will keep for up to 5 days.
Charlotte Pike https://www.charlottepike.co.uk/