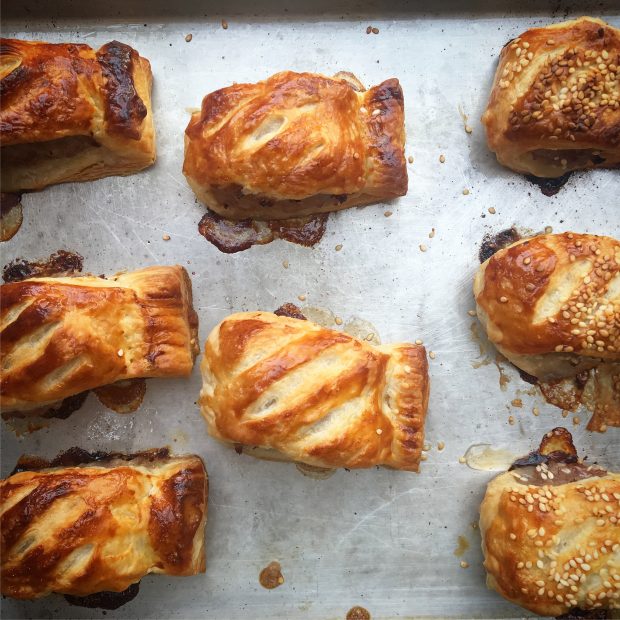 This is a very flexible recipe. Good quality sausage meat makes an excellent filling, and it is pre-seasoned, too. You can add extra flavours to the meat if you wish, such as dried chopped fruit, maybe apricots, or fresh herbs, such as sage. Try a sprinkling of sesame seeds on top of the pastry for an extra layer of flavour. I often do half and half.
Good quality sausage meat and all butter pastry make all the difference here.
Make large sausage rolls for lunch or a picnic, or mini sausage rolls to serve with drinks. Either way, I promise you they'll be gone in a flash.
Homemade sausage rolls
Charlotte Pike
Makes 8-10
Ingredients
450g free range sausage meat (do buy pre-seasoned from your butcher)
300g ready rolled all butter puff pastry
1 egg, beaten
Method
Preheat the oven to 180ºC/Gas Mark 4.
On a floured work
surface, unfurl the pastry, and cut lengthways into 
two long, even rectangles. Roll the sausage mixture into sausage shapes with your hands and lay along the centre
 of each rectangle. Fold one side of the
 pastry over, wrapping the filling inside. Press down with your fingers or the edge of a spoon to seal. Cut 
the long rolls into the sizes you want and space them out on a baking tray. Brush with the beaten egg and bake in the preheated oven for 25 minutes or until puffed, golden and cooked through. Serve hot, perhaps with some tomato relish on the side.