Marrakech has been at the top of my list of cities to visit for some time now, and I was really excited to finally get there just a couple of weeks ago.
Morocco is an increasingly popular destination for a short break or holiday, and its warm climate, short flight time and no time difference all appeal.
A trip to Marrakech can be a very intense experience. Most people choose to stay within the Medina – the old, walled city centre – which is generally a good idea – but every day life within these walls may seem pretty bamboozling for Western tourists. Marrakech is quite unlike any city I've every visited before. It is hot, hectic, chaotic, colourful, loud and sometimes smelly. It is an intoxicating experience involving every sense, and certainly a very memorable experience. With that in mind, I'm offering a few extra tips to this Foodie Guide, which I hope will be helpful when planning a trip in terms of logistics and expectations.
Where to stay
This is, in my opinion, the most important thing to get right during a trip to Marrakech. For us, exploring the city was a very intense experience, and it can be extremely hot during the day, so a calm, comfortable place to stay made all the difference for us. We stayed at La Sultana, which is in the Kasbah area of the Medina, and absolutely loved it. It is the smallest 5* hotel in Marrakech with just 28 rooms and suites. It is really a complete oasis of calm, peace and privacy.
Our room was a junior suite, which was very quiet and private. We had a huge bedroom and bathroom with a bath big enough for two and a lovely balcony with a table and chairs looking out over the pool which was set in an inner courtyard, with no roof, so it felt wonderfully sheltered, but with a fresh breeze. Our room was very well equipped with plenty of storage space, a huge and very comfy bed, Clarins toiletries and lovely coloured glass windows with shutters, which would allow small chinks of brightly coloured light through in the morning sunshine. Our balcony even had its own curtains so one could sit out in the cool of the evening in total privacy.
The food at La Sultana was the best food of the trip. What I particularly liked was that everything was homemade from scratch, using local and Organic ingredients. The choice was also very good indeed, and my partner is on a very restricted diet, and found loads of delicious choices he could enjoy too.
Breakfast was either taken on the rooftop or by the pool, depending on the weather. Fresh fruit juices, Moroccan mint tea, and lots of local specialities featured on the menu, plus homemade yoghurt, fresh seasonal fruit – lots of strawberries – and chia pots made with almond milk, dates, raspberries and blueberries. I loved the Berber omelette, a thin omelette, cooked on the bottom side only, so it was crispy, with finely chopped green pepper, tomato and salty dried black olives. I also liked the freshly cooked Moroccan breads, including baghrir or mille trous (translates as thousands of holes) which is like a large pikelet, made with milk in the batter, and M'smen which is a flatbread made with olive oil and cooked on a hot flat plate until crisp and lightly browned.
Staff at La Sultana were really good, too. We were really impressed with all elements of our stay.
Moroccan specialities to try
There are plenty of Moroccan delicacies to try during your trip. First, I must confess, that we did not try any street food during our visit. We were both not feeling very well, and just wanted to play it safe, which we did. However, if you are prepared to embrace food from street sellers, there is plenty to try.
Looking at drinks first, Moroccan tea is widely drunk, and is made with a wide variety of mints, depending on the season, plus geraniums and other herbs including lemon verbena and sage.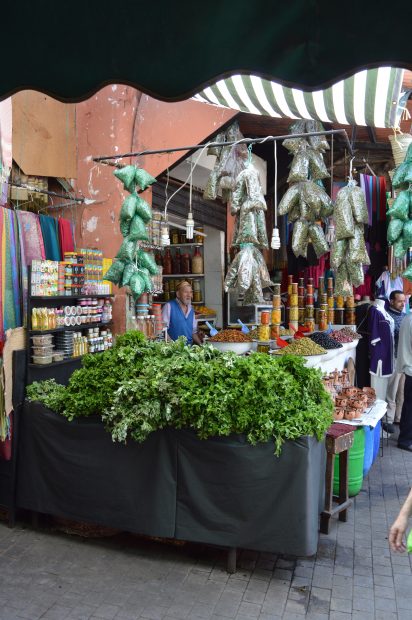 Fresh juices are also a big thing and you'll find plenty of juice stalls selling all kinds of fresh fruit juiced. I also noticed men selling drinks from a metal container strapped to the back of a scooter, which looked like Ayran, but again, I didn't try it.
Food stalls are everywhere in Marrakech. You'll hardly see a supermarket in the city – I saw just one in four days. It seems as though the way to shop is from trusted stallholders, buying ingredients regularly and in small quantities, for the day ahead or even the meal ahead.
There are a huge number of stalls selling round loaves with a cornmeal crust. Stallholders bake bread grinding grains themselves, preparing their loaves and baking them in the numerous communal ovens around the city. Look carefully, and you'll spot them as you walk around, sometimes with bundles of twigs outside which fire the ovens. These ovens are also sometimes used to warm waters in the public baths.
Whilst we're on the subject of ovens, look out for Tangia, which is a lamb dish cooked in a clay pot with a lid, by placing the meat in the pot and sitting it in the embers of the fire to produce a wonderful slow-cooked meaty dish.
You'll of course find tagines on the menu, which vary hugely in quality. Look out for Meschoi, which are cuts of lamb, cooked on a skewer over a chargrill and sprinkled with ground cumin and salt. Look out for stalls cooking lamb in this way – all parts of the animal, too, including the head and brains – and serving them on little plates at nearby tea shops. Look out for Meschoi alley near Jemaa el-Fnaa.
Other treats to look out for are Briouats, Rfusa, Taktouta, Warka, Beghrir, B'sara, and Harira.
Where to eat
We had two really excellent meals in Marrakech. The first was at La Sultana. We tried their tasting menu and it was truly delicious. So many delicious small dishes to try with each course. My absolute favourites were the pigeon pastilla with cinnamon, and the mussel tagine, which was absolutely exquisite, packed full of fresh mussels and a rich, spicy tomato-based sauce. I was totally bowled over by how delicious it was – not being a huge mussel lover. The food was wonderfully cooked, seasoned and presented, and we really enjoyed a bottle of Moroccan wine to go with it. Dinner at La Sultana was not cheap, but competitively priced, and a really, really lovely experience eating by the pool with a wonderful live music.
The best lunch we had was at L'Hôtel, which is a super chic tiny riad (with just six rooms) owned by Jasper Conran. The food was really, really good – very simple Moroccan cooking with ingredients fresh from the market. We started with some delicious fresh salads, followed by chicken with a spiced soya flour crust and crème à l'orange for pudding. Tables are beautifully laid and the service was impeccable. Good value too at 30 Euros a head excluding drinks.
We also ate at La Mamounia, which was very expensive. We ate at Le Marrocain, which is their Moroccan restaurant. Surroundings are really opulent and the food was good – no better than good – but the service really let down the experience and as a result of which, I would not recommend it to you. We had two particularly unacceptable encounters with staff.
We also ate at El Fenn. We were very well looked after by the utterly charming Front of House Manager in making arrangements for our visit, but our meal and experience didn't meet our expectations. The menu is really appealing – short, seasonal and absolutely delicious sounding – but we were underwhelmed with out food. It was beautifully presented but under seasoned and lacking in coherence, and we were very overlooked by our waiter, who brought us the incorrect starter and drinks and generally gave us the impression he didn't care about us, which was a great shame. Perhaps we were unlucky.
What to do
The Medina is quite rabbit warren-like, so we decided to take a tour guide around the city on our first day. Despite paying the guide heavily, we still found ourselves taken to his friends to get us to buy their wares. Expect to pay £100 for three hours with a guide, plus taxi fares and entry.
We visited a tannery first of all, which was quite an experience. Donkey hair, and assorted types of excrement are all used to create the dyes, so as one might expect, it is quite a pungent experience, but interesting to see the process happening.
Another essential Marrakech experience is a hammam. I was desperate to try one as I have really enjoyed the experience in Dubai several times, but I didn't manage to find time during this trip. There is a spa at La Sultana which looked excellent. I also had a recommendation for Hammam de la Rose in the Medina from a friend who visited recently and rated it. Expect to pay from 250 MAD for a steam and scrub. There are several public baths dotted around the city and are strictly male or female only. They cost just pence, and might be fun for a very authentic experience.
Entry to many tourist attractions costs just a couple of pounds – if that – and some are really, really worthwhile. The Medersa Ben Youssef, Saadian Tombs are very interesting as is the Bahia Palace for spectacular courtyards and gloriously coloured flowers, El Badi Palace for interesting architecture and lovely views from the highest points. The Jardin Majorelle is worth a visit for its gorgeous plants and colours.
The souks are an essential part of the Marrakech experience and are a total rabbit warren. What I found most interesting was avoiding the touristy stalls and looking at the spice souk, olive souk, ironwork souk and animal souk, which is quite a sight. Animals are kept in cages and sold straight to be killed and the meat sold the same day.
Travellers tips
In all my Foodie Guides, I have never offered traveller tips before, but Marrakech is quite different to many other destinations, and I hope a few pointers may be useful, if you are not quite sure what to expect.
Depending on how one feels, Marrakech is not necessarily a city in which to wander aimlessly and soak up the experience – or at least look as though that's what one is up to. The main tourist areas are very busy, and one sometimes needs to be firm, resisting approaches for directions, henna tattoos, photos with monkeys and money for photos of snake charmers. Be aware that many people will try and offer you directions (which may not necessarily be correct) and will expect payment for this.
Pay attention to what and to whom you photograph. Some people, and many stallholders, do not want their photo taken and will tell you so. Some will also want payment for photos and will ask after they have been taken.
It is a well-known fact that one must negotiate on price. This is very much the case when shopping and taking taxis. Meters are not in operation and a price should be agreed before getting in the taxi. It is hard to know how much a journey should cost. We paid 200 dirhams for a taxi in from the airport – too much – we now know it should be 100. On our return journey, we agreed 100 with the driver, only for him to try and charge us double. Taxis within the Medina seemed to cost 50 dirhams as a flat rate – some journeys were shorter than others for the same cost. It's hard to know if you are paying over the odds though.
Take plenty of cash with you. Marrakech is surprisingly expensive and you will probably spend more than you think. We found prices either the same or more expensive than European city breaks. We definitely felt as though we were being overcharged as obvious tourists on several occasions, which ate into the budget.
Be mindful as to what you are drinking and eating. Many people report upset tummies from food, so do be sure you are happy with the establishment you are eating and drinking it. Do drink bottled water, too. We were very careful and even used bottled water for brushing our teeth.
French speakers will have an opportunity to use their French here – I spoke mostly in French in Marrakech, but English is widely spoken. Signs mostly are in French and Arabic, and most natives are bi-lingual.
How to get there
There are plenty of regular flights to Marrakech. London flights pretty much all depart from Gatwick. We flew with Easyjet from Gatwick and paid around £270 each for return tickets. The flight time is around 3 hours, and no visa is required for UK passport holders. Forms are given out on the flight to complete and hand in on arrival, and again on departure. Do make sure you allow plenty of time at Marrakech Menara airport when returning – queues through security and passport control can be really long. Even if you are flying hand luggage only – as we did – you must go to the airline desk and have your boarding pass stamped and hand luggage checked before you go through first, which adds extra time on to getting to the gate.
Thank you to La Sultana for inviting us to stay as guests. We paid for everything else ourselves, with the exception of dinner at El Fenn.